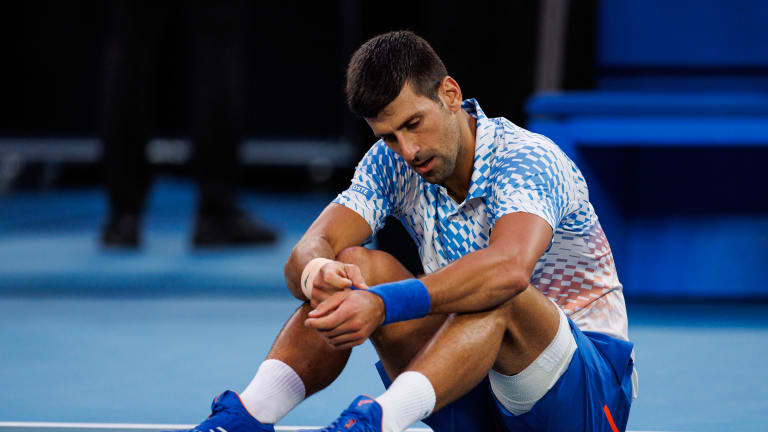 Alex de Minaur could cause 'problems' for Novak Djokovic, says John McEnroe
Novak Djokovic is due to face Alex de Minaur in the fourth round of the Australian Open.
John McEnroe believes that Alex de Minaur could knock Novak Djokovic out of the Australian Open if the Serbian is not feeling '100 percent'.
But it is unlikely that Djokovic will feel at his best considering he is still battling a hamstring injury which he picked up earlier this month at the Adelaide International.
The 35-year-old's leg has been strapped throughout each of his three matches so far with him admitting that the injury was 'not good at all' after his second-round clash against Enzo Couacaud on Thursday.
While McEnroe applauded Djokovic for 'getting the job done' so far, he admitted that de Minaur has the ability to cause an upset should the Serbian's injury continue to deteriorate.
''It's really difficult to say with Novak exactly what's happening physically," McEnroe told Eurosport.
"He's getting the job done, he certainly doesn't look like he's [100] percent.
"It's a question of who's going to take advantage of that when the going gets tough. It just seems like he's able to rise to the occasion.
"But to me it's going to catch up to him if he's not right.
''This is either something that is going to be a non-issue in a match or two or else it's going to cause an upset in my book.
"de Minaur, his next opponent, is someone that potentially [could do that] because he relies on speed and grit and making an opponent work. The type of guy that could cause Novak problems if he's not 100 percent.
''If he is 100 percent or close to that, then de Minaur is the type of guy who maybe can't hurt him a lot, so Novak is a heavy favourite. This is really difficult to say where he's at right now.
"Hamstrings they are tough to diagnose, tough to rehabilitate. You really need to rest it.
"So if this is really an injury where the hamstring is affecting his movement, I'm impressed.
"He's done this well so far, so hopefully it's not too serious and he can go out and play the type of matches we've seen him play so often in Australia. Then someone has to play, do something incredible to beat him.''
Please follow Tennisbuzz on Twitter and Instagram, and you can like us on Facebook by clicking here.
For more exclusive content from Tennisbuzz, including news, features, trivia, promotions and more, please be sure to bookmark our home page.