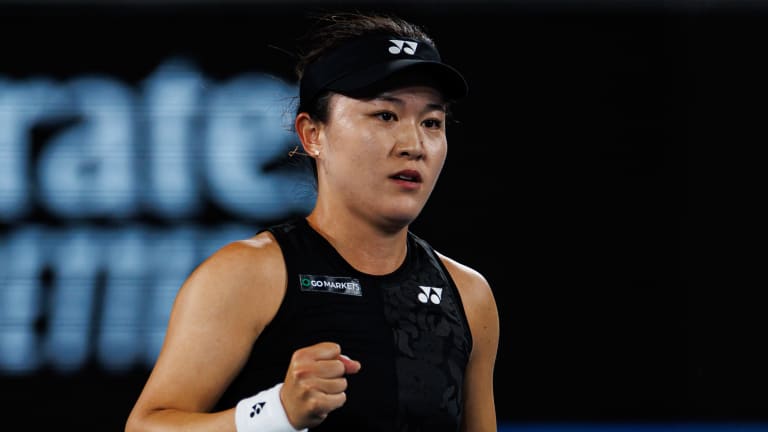 'Am I in a dream?' – World number 87 Zhu Lin takes down sixth seed Maria Sakkari at Australian Open
Maria Sakkari fell victim to the latest upset in the women's draw.
In the win of her career, Zhu Lin defeated Maria Sakkari to reach the fourth round of a Grand Slam for the first time.
The world No. 87 was fearless as she downed the sixth seed 7-6, 1-6, 6-4 on Friday.
The win marked not only Lin's first victory over a top-10 player, but the first time a Chinese woman has reached the fourth round of the Australian Open in the Open Era too.
''I mean honestly, am I in a dream?" Lin said during her on-court interview.
"I have to believe in myself that I have the ability to be able to play at this high level. Who knows what's going to happen? You never know.
''It means a lot. It makes me believe that I can play at this level and I can beat a player like her.
"It took me a long time to get here, and so that's why I'm so emotional. This is not the end. Let's keep going."
A seemingly disheartened Sakkari admitted that her level was simply just not good enough as she was playing too defensively.
''I think that my level was not good at all,'' Sakkari said during her press conference.
''I started the match by being very defensive and not hitting the ball, just being scared of playing my game.
"She had basically nothing to lose. She was playing free. She was enjoying herself. She was playing very, very well. I didn't handle the situation well.
"She was barely missing anything, [not] making any unforced errors. That's how I felt. She was very solid from both sides. I've seen her on the tour. I've never seen her playing that well, to be honest.
"Of course, beating Jil [Teichmann] in the round before, she was pretty pumped and motivated to have a good result here. She has achieved it already by beating two very good players."
Please follow Tennisbuzz on Twitter and Instagram, and you can like us on Facebook by clicking here.
For more exclusive content from Tennisbuzz, including news, features, trivia, promotions and more, please be sure to bookmark our home page.