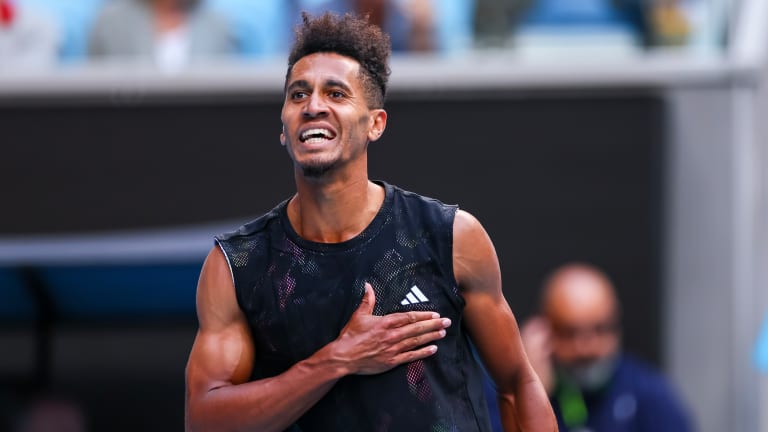 American lucky loser Michael Mmoh downs Alexander Zverev at Australian Open
Alexander Zverev comeback ground to a halt in the second round
Alexander Zverev has crashed out in the second round of the Australian Open by a young American who had already booked his flight home.
Michael Mmoh had failed to qualify for the main draw of the Australian Open and had packed his bags and booked his flight home to the United States.
However, the withdrawal of David Goffin opened up a place and Mmoh was brought in as the replacement through the lucky loser process.
After a five-set first round thriller against French qualifier Laurent Lokoli, 25-year-old Mmoh was drawn against former world number two Alexander Zverev.
Zverev, who was making his Grand Slam return after seven months out with injury, hadn't had a lot of match practice and had also played in a five-match battle in his first-round match again Juan Pablo Varillas.
The American, who is ranked 107th in the world, made the most of his second chance by defeating Zverev 6-7(1) 6-4 6-3 6-2 and said afterwards he couldn't believe the last few days.
"Life is crazy, life is crazy," said Mmoh after his victory.
"Right when you think everything is looking dim, looking dark, there's light at the end of the tunnel and my week is proof of that.
"I could have easily been in the States right now. I was ready to go, I was packing my bags, I had my flight booked - I was actually meant to leave yesterday morning. So the fact that I'm still here playing in front of you guys, it's insane."
Mmoh said the fact he wasn't meant to be there gave him more courage to take his chances when he could and he just wanted to give his all.
"This is the biggest win of my career hands down," said Mmoh.
"Coming out, I definitely felt the nerves a little bit, but I felt like I settled down at the end of the first [set], and at that point, I told myself I shouldn't even be here to be honest, I'm lucky to be at this point.
"The last thing I wanted to do was not go for it when I had the chance and that's what I told myself on the match point, if I get a ball, just go for it, you're not even supposed to be here."
Mmoh now faces compatriot J.J Wolf in the third round who defeated Diego Schwartzman in the second round. 
Please follow Tennisbuzz on Twitter and Instagram, and you can like us on Facebook by clicking here.
For more exclusive content from Tennisbuzz, including news, features, trivia, promotions and more, please be sure to bookmark our home page.