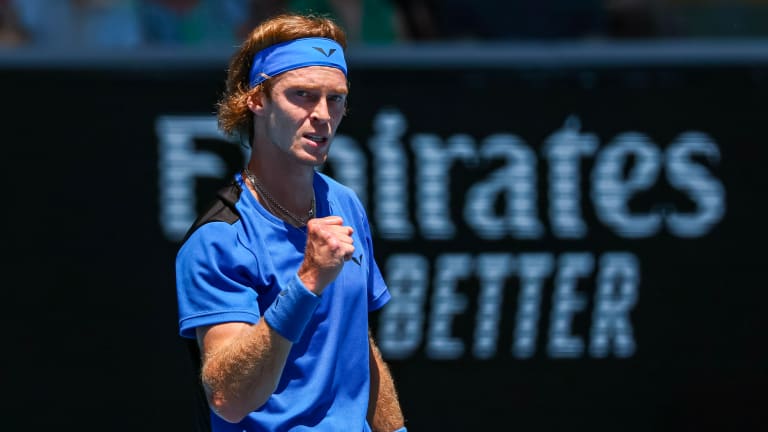 Andrey Rublev 'playing better and better' as he downs Dan Evans for place in fourth round
The fifth seed defeated Dan Evans in straight sets.
Andrey Rublev secured his place in the fourth round of the Australian Open with a stunning win over Dan Evans.
The Russian clocked up an impressive 60 winners en route to a comfortable 6-4, 6-2, 6-3 victory.
Rublev admitted that his confidence had taken a knock after two opening-round defeats earlier this month, but his run so far at the Australian Open has provided him with a boost.
''Every match I'm playing better and better," Rublev said after the match.
"I'm really happy because at the beginning of the season I lost a couple of tough matches against great players. I lost a bit of confidence and I'm happy that since the first match I'm playing really good tennis.
''I'm really happy and we'll see what's going to happen next.
"After the first set I started to feel confident, I started to feel that I can play even better. I can play even faster. As soon as I did it I started to feel even better.
''I felt he was uncomfortable so I tried to play even more aggressive, but in the end I was still playing really good tennis.''
Perhaps Rublev's dominant performance can be put down to a boost in energy from a banana that Evans tossed over to him early in the match.
''I didn't ask him for it, but I asked a ball boy. He had two so he threw one to me and I caught it. It helped with some energy,'' Rublev joked.
Rublev, who is yet to make it to the semi-finals of a Grand Slam, will now take on ninth seed Holger Rune for a place in his seventh Major quarter-final.
Please follow Tennisbuzz on Twitter and Instagram, and you can like us on Facebook by clicking here.
For more exclusive content from Tennisbuzz, including news, features, trivia, promotions and more, please be sure to bookmark our home page.