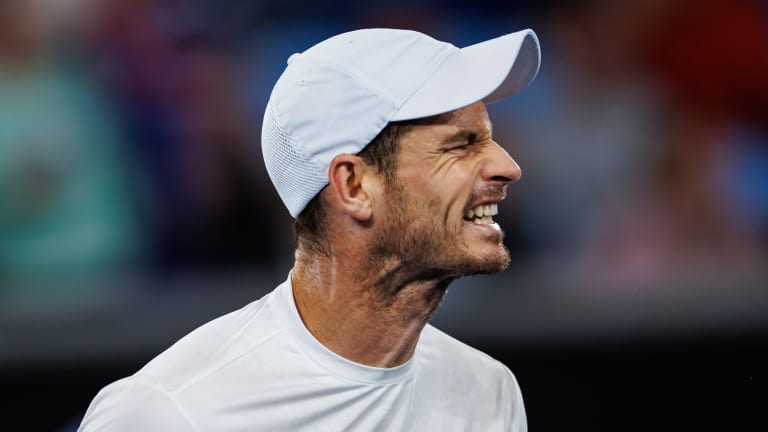 Andy Murray comes from two sets down to win longest match of his career
The marathon of a match lasted almost six hours and finished at 4:06am local time.
Andy Murray is through to the third round of the Australian Open after completing his second five set match of the tournament.
The former world No. 1 clawed his way back from two sets down against Thanasi Kokkinakis, defeating the Aussie 4-6, 6-7(4), 7-6(5), 6-3, 7-5 after a physically and mentally exhausting five hours and 45 minutes – the longest match of the 35-year-old's entire career.
The Murray roar echoed throughout the Margaret Court Arena as mum Judy was in tears in the stands.
It is the second time this week the Scot has had to go the distance after he defeated Matteo Berrettini in five sets on Tuesday.
''It was unbelievable I managed to turn that around, Thanasi was playing unbelievably,'' Murray said during his on-court interview.
''I did start playing better as the match went on, I have a big heart.''
Murray now boasts another impressive stat as the man who has completed the most comebacks from two sets down in men's tennis history at a remarkable 11 times.
''Remember the other day you mentioned a stat after my match but I think now I am outright the man with the most matches coming back from two sets down [11],'' Murray added.
''I have done it before, I have experience of it.
''I rely on that experience, my love of the game, for competing and respect for the men in the draw.
''I am aware I don't look particularly happy when I'm playing most of the time but I'm happy on the inside.
''I have always loved competing, I have always worn my heart on my sleeve, shown my emotions. I have been criticised a lot but that is who I am.''
Despite a finishing time of 4:06am in Melbourne, the fans that stayed created a lively atmosphere that kept both players alive until the very end.
''Thanks to everyone for staying, it's ridiculously late and you didn't need to do that but it really helps me and Thanasi creating an amazing atmosphere.
''Everyone, including me, should all get off to bed now.''
Please follow Tennisbuzz on Twitter and Instagram, and you can like us on Facebook by clicking here.
For more exclusive content from Tennisbuzz, including news, features, trivia, promotions and more, please be sure to bookmark our home page.