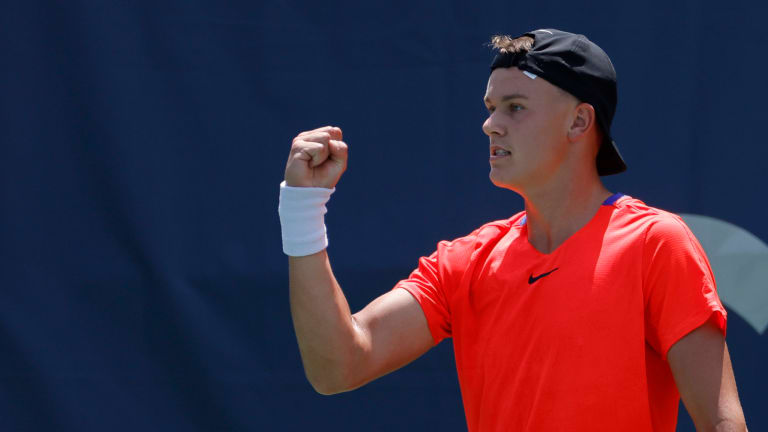 Australian Open 'feels like home' for Holger Rune as he advances to third round
The ninth seed is through in straight sets.
Danish teenager and ninth seed Holger Rune is through to the third round of the Australian Open after a straight-set victory over Maxime Cressy.
Rune looked confident on the court from the get-go, outplaying the American for a comfortable 7-5, 6-4, 6-4 victory.
''It wasn't easy, for sure,'' Rune admitted during his on-court interview.
''Maxime is serving huge so it's really difficult to break him.
''I had some good points at the end, one good passing shot, crazy rally and, you know, most of all I enjoyed playing the match, the atmosphere was great again, thank you so much guys, thank you.''
Discussing his rapid rise up the rankings, the teen acknowledged that he is improving every day.
''I'm very young so I feel like everything is going so good, if you look at the paper it's going fast.
''I'm really happy, I'm improving every day, trying to stay focused, having a great team behind me so I'm super thankful.
''It's my third time playing in Australia, I enjoy it so much, the crowd is unbelievable and I like the conditions so I'm so happy to be here.''
Frenchman Ugo Humbert awaits Rune in the third round, and the Dane currently leads the Head2Head 2-0.
''Ugo is also a big player, he plays some big shots and he plays super aggressive.
''I played him two times last year, it went well, so hopefully it will be the same on Saturday.
''Honestly it [Australia] feels like home, you see so many Danish flags… in general, the support is unbelievable.
''From when I enter the court until I leave the court, it's insane, let's keep going guys.''
Please follow Tennisbuzz on Twitter and Instagram, and you can like us on Facebook by clicking here.
For more exclusive content from Tennisbuzz, including news, features, trivia, promotions and more, please be sure to bookmark our home page.