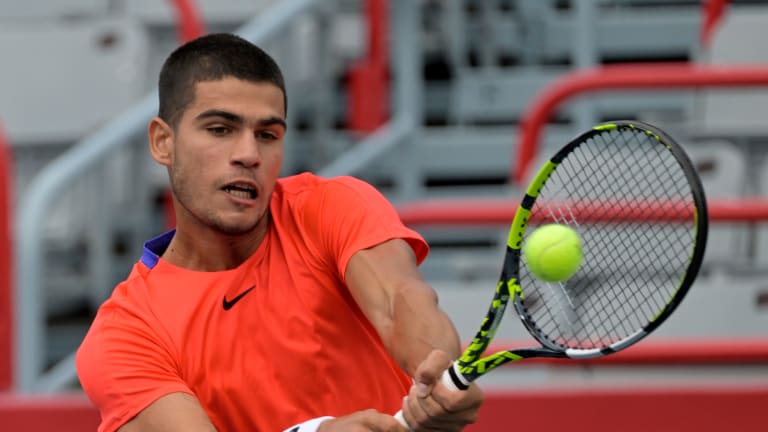 Carlos Alcaraz makes candid confession after Montreal failure: 'I couldn't handle the pressure'
Teenage Spanish star struggles with expectation for the first time.
Carlos Alcaraz candidly confessed that he 'couldn't handle' the pressure as he suffered a shock Canadian Open defeat to Tommy Paul.
Alacaraz, 19, has been the breakthrough star of the ATP Tour this season, winning four titles and reaching a further two finals.
Those titles include two Masters, and he beat both Rafael Nadal and Novak Djokovic back to back before winning Madrid in May.
That success has seen the teenager propelled to number four in the world, but he says the expectation that comes with that got to him during his 6-7, 7-6, 6-3 defeat to Tommy Paul in Montreal.
"I felt the pressure to be the number two seed in this kind of tournament, number four in the world," Alcaraz said. "It was the first time that I felt that pressure, and I couldn't handle it.
"All I can say from this match is I have to train, I have to be ready to have this pressure, to have these kinds of moments, and to learn how to handle it.
In fairness, Carlos Alcaraz was not alone in his Montreal failure. Daniil Medvedev and Stefanos Tsitsipas also lost their opening matches of the tournament.
Indeed, it was the first time since Indian Wells 1999 that the top three seeds at a Masters have all failed at the first hurdle.
"I could say I couldn't show my best performance here," Alcaraz said.
"But, as I said, first rounds, you have to fight against your opponent and of course against yourself.
"Obviously it was tough to handle those moments knowing that I'm not playing my 100 per cent. It was a fight with myself."