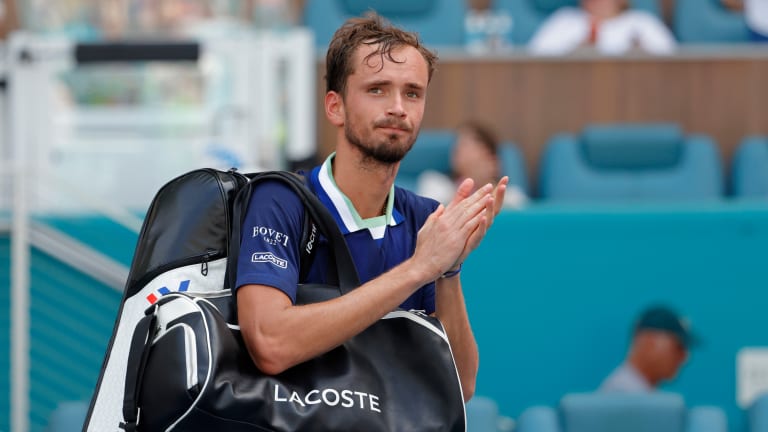 Daniil Medvedev on altercation with booing fan: 'If somebody mocks me, I'm going to respond'
World number one Daniil Medvedev has lifted the lid on his argument with a fan at the Canadian Open.
Daniil Medvedev has explained his altercation with a fan at the Montreal Masters, saying he felt fully within his rights in how he handled it.
Medvedev lost his opening match against Nick Kyrgios in Canada, and afterwards was captured on video confronting a fan who was shouting 'loser' at him.
The video did attract some criticism with many believing Medvedev should not have got involved. However, the world number one says he has a right to defend himself.
"After the match, [I was] a little bit disappointed, a little bit of adrenaline going up and somebody mocked me," Medvedev told the press ahead of the Cincinnati Masters.
"It does not matter after the match, on the tennis tournament, on the street, in my house - if somebody is going to mock me, I am going to respond."
"I went to the guy and said: 'what is your problem? Why are you saying such things?', and he barely spoke English.
"The only bad thing about the situation [was] because then I asked him, 'come, why you said this?' and he said, 'why?' And I said, 'look, you should not do it.'
"There were people around saying that he should apologise. But, in general, it does not matter."
Medvedev memorably took on the whole crowd at the 2019 US Open during an on-court interview who were booing him.
By the end of the tournament, though, he had managed to turn those fans on his side as he reached his first ever major final.