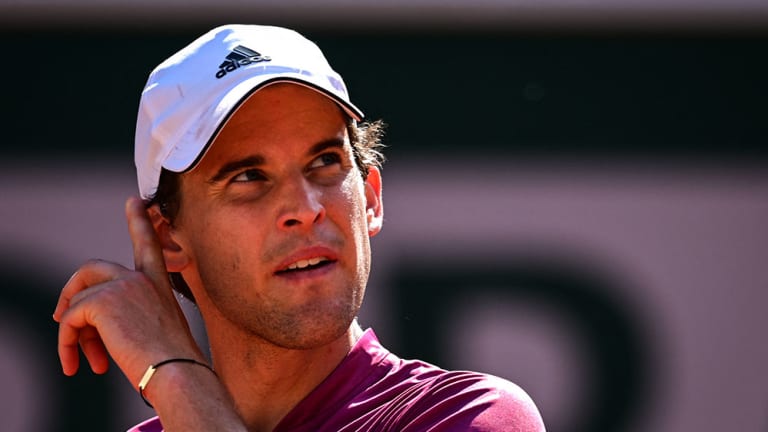 Dominic Thiem hoping to be 'back to his best' this season despite first-round loss
It is all about belief says Dominic Thiem on getting back to beating the best
Dominic Thiem suffered a first-round loss at the Australian Open but said he believes he can get back to his best this season, he just needs to believe he can.
Thiem was a permanent fixture in the top ten of men's tennis for over five years from June 2016 to October 2021 and won his first Grand Slam title at the US Open in 2020.
Almost immediately after winning his maiden major, Thiem suffered a loss in form, and later admitted that he was experiencing some mental health struggles after the win of his career.
Thiem took some time away from the sport and then picked up a wrist injury which plagued his return and made it difficult for the Austrian to find momentum.
At the start of 2022, Thiem, who had dropped to 98th in the world rankings, made seven first round exits in a row but started winning matches in the second half of the season and now seems to be ready to give it his all.
Despite his first-round Australian Open loss to Rublev in straight sets, Thiem says he is hopeful for the season.
"The ultimate goal [is to get back to my best], and I hope that I can do it during this season," said Thiem.
"If I have a draw like here in Australia, against a top-10 player, top-five seed, to go out on court and to believe that I can win it.".
The 29-year-old admitted his return to the Tour was difficult last year but that he felt himself progress as the season went on.
"In the beginning, it was way tougher than I expected," said Thiem.
"Also, I was playing way worse than I was expecting, so it was a tough way back, but things changed, especially towards the last tournament of the year.
"As I said, this tournament doesn't change anything because I just had a really tough opponent. I hope that I can improve the results at the South American clay."
One thing that may hinder Thiem's plans is a fresh injury concern he picked up in the Australian Open loss, an abdominal strain that he received a medical time-out for.
"It happened at one serve in the second set. The sun was in a tough position to serve, so I completely changed the toss, and something happened [with] the abs or at the ribs," he said.
"Then I went out, and the physio said that the ribs are fine – it's just a little inflammation or a little strain. Obviously, it's not the best timing, in the middle of the second set, but it is what it is."
Please follow Tennisbuzz on Twitter and Instagram, and you can like us on Facebook by clicking here.
For more exclusive content from Tennisbuzz, including news, features, trivia, promotions and more, please be sure to bookmark our home page.