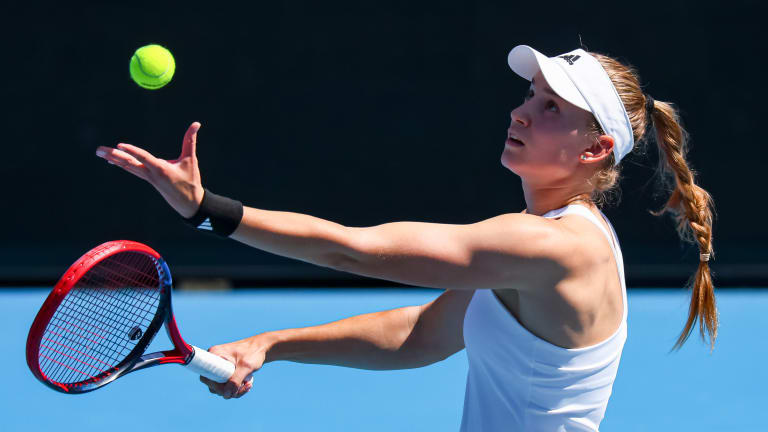 Elena Rybakina downs Iga Swiatek to reach Australian Open quarter-finals
The Moscow-born Kazakh conquered the world No. 1 in straight sets.
Elena Rybakina has knocked world No. 1 and first seed Iga Swiatek out of the Australian Open in straight sets.
The reigning Wimbledon champion is through to her first quarter-final in Melbourne after overpowering Swiatek 6-4, 6-4 in just one hour and 29 minutes.
Rybakina, lowly seeded at 22, produced an excellent level of tennis throughout the clash as she refused to let the enormity of the challenge intimidate her.
''It was a really tough match," Rybakina said afterwards.
"I really respect Iga because of the streak she's had and her Grand Slams. She is a young player and I think she plays really well.
"I saw she was struggling a bit on one side but in the important moments I played really well so it made the difference.
"I am nervous every time I go on the court like everybody, but I'm calm always. At least I'm trying not to show so much emotions.
"My coach is saying that I actually need to show them sometimes. I'm also learning but for sure I'm nervous, but it's a big win and I'm happy to get to another round.''
Despite winning Wimbledon last year, Rybakina's profile has remained fairly low and the 23-year-old has been forced to play on the outside courts instead of the show courts during the tournament so far.
However, when it was suggested that the insulting court scheduling had fuelled her motivation to win and prove herself further, Rybakina debunked the claim and insisted that she won because she was the better player.
''I really don't care on which court I play. It doesn't bother me because it's been already six months after Wimbledon, and the year just started,'' she said.
''I try to improve from every match. I think about the serve that for sure I have one of the fastest serves. I was leader with the aces. For sure it's my strength and weapon.''
Rybakina will take on 17th seed Jelena Ostapenko for a place in the semi-finals.
Please follow Tennisbuzz on Twitter and Instagram, and you can like us on Facebook by clicking here.
For more exclusive content from Tennisbuzz, including news, features, trivia, promotions and more, please be sure to bookmark our home page.