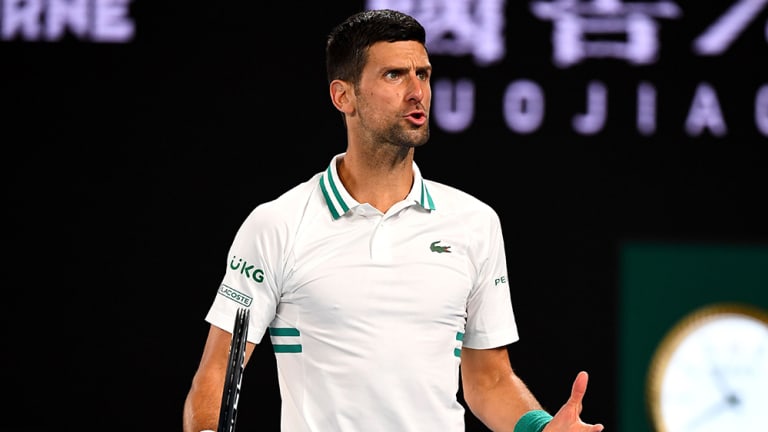 'Fans should be allowed to boo,' says Wawrinka on news that fans booing Djokovic will be 'kicked out'
Stan Wawrinka believes that there should be no special treatment for Novak Djokovic
Former Australian Open champion Stan Wawrinka says fans should be able to do whatever they want, within reason, because it's just part of the sport.
It comes after Tennis Australia chief Craig Tiley announced that anyone who was being overly negative to Novak Djokovic wouldn't be welcome at the Australian Open.
Novak Djokovic was at the centre of a media frenzy last January in Australia when he was deported from the country due to his covid vaccination status.
The Serbian had originally entered the country on an exemption but was detained on arrival and after some legal wrangling and a further appeal, his visa was revoked, and he was forced to leave.
At the time, the incident divided the Australian public with supporters for and against Djokovic being allowed to stay and play the Grand Slam, taking to the streets to campaign.
It was originally thought that the nine-time Australian Open champion wouldn't be allowed back for three years, but this was overturned, and Djokovic is now back in Australia to compete for this year's title.
Both Djokovic and Tennis Australia had hinted at fears the Serbian might receive some opposition to his return from the public. However, the 21-time Grand Slam champion received an exceptionally warm welcome from the crowd in his first tournament in Adelaide last week.
Now with the former world number one's first return back to Melbourne Park imminent, Craig Tiley sent a clear message to anyone coming to the Australian Open specifically to oppose Djokovic.
"If they disrupt the enjoyment of anyone else - boom, they are out," Tiley told the Herald Sun.
"We don't want them on site. They can stay away or we will kick them out."
However, Stan Wawrinka, who won the Australian Open in 2014, believes that this is too extreme, and that booing and cheering players is just tennis.
"If they go over the limit then yes, but I think they should be allowed to do whatever they want," Wawrinka told the Herald Sun.
"They do it every year with every player - if they don't like the player, or they like another one, they will boo one and cheer for the other one. That's tennis. That's sport. That's what you want.
"So of course, things happened with Novak last year, and I think there was many mistakes - not only Novak."
But Wawrinka went on to say that while he thinks fans should be allowed freedom to react any way they want, he believes it will be positive rather than negative towards Djokovic.
"I do believe they will not boo him. They will be happy to see him and it's going to be a great tournament."
Please follow Tennisbuzz on Twitter and Instagram, and you can like us on Facebook by clicking here.
For more exclusive content from Tennisbuzz, including news, features, trivia, promotions and more, please be sure to bookmark our home page.