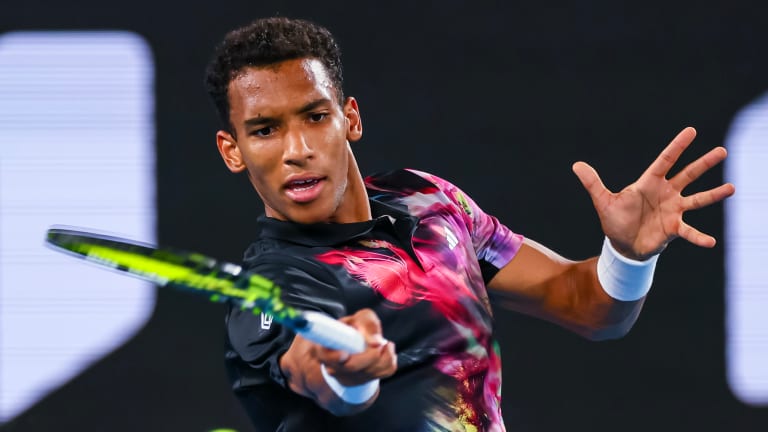 Felix Auger-Aliassime comes from two sets down to book a place in Australian Open third round
The number sixth seed narrowly avoided an early exit.
Felix Auger-Aliassime was forced to the distance in his second-round match against Alex Molcan to avoid crashing out of the Australian Open.
Auger-Aliassime was trailing 0-1 in the Head2Head against Molcan going into the match, but the Canadian battled to come back from two sets down to win 3-6, 3-6, 6-3, 6-2, 6-2 and avoid another loss to the Slovak.
Molcan dominated throughout the first two sets and most of the third, with Felix Auger-Aliassime looking uncomfortable and tallying up 39 unforced errors.
The Canadian also had a problem with the condition of the tennis balls that they were using, at one point telling the umpire: ''I don't want to complain about it but the balls are not bouncing. It's crazy. I mean, we're hitting normal but I don't know. I don't know if it's the batch of cans (that the balls are in), they're terrible.''
Despite the distraction, Auger-Aliassime appeared to come to life after breaking his opponent for the first time in the match to lead 5-3 in the third set and went on to win the next five games.
The 21-year-old had no problems in the final two sets and finished the match with 23 aces 59 winners.
''At some point I was just trying to spend a little bit more time on the court in front of you guys," Felix told the crowd during after the match.
"I was trying to find a way to make the match tough and make it longer. When I was able to clinch that third set, I got a lot of belief in myself.
''My thoughts were way more positive. I was thinking, 'OK, I've done it before, maybe I can come back and win.' But I'm really thrilled that I was able to get it done. It was a tough day for me.
''The numbers show it, but he [Molcan] was just way more consistent than I was in the first two sets, making me work.
"I was just missing a little bit too much. I had to find a way to keep playing my way but not do as many mistakes.
''It's quite simple. You have to put the ball in the court without missing at the end of the day. It's not rocket science. I was just trying to put one more ball in the court, make it simple, make it work, and I'm glad it worked out.''
Auger-Aliassime will now face Francisco Cerundolo in the third round.
Please follow Tennisbuzz on Twitter and Instagram, and you can like us on Facebook by clicking here.
For more exclusive content from Tennisbuzz, including news, features, trivia, promotions and more, please be sure to bookmark our home page.