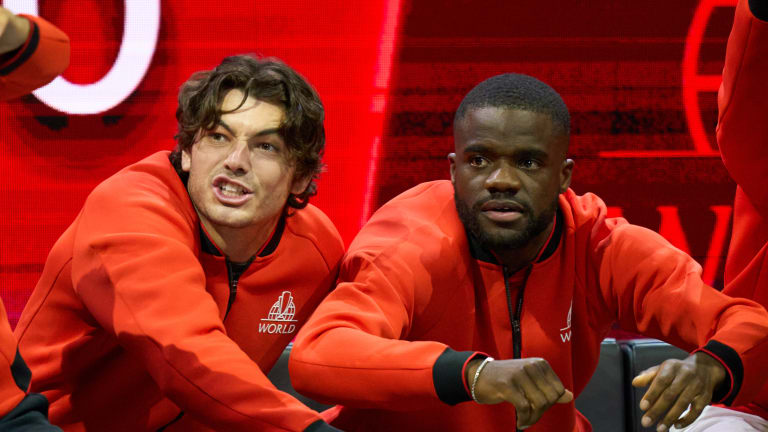 Frances Tiafoe celebrates USA win by accidentally head-butting Taylor Fritz
Celebrations a little unruly as the United States triumph at United Cup
The USA have won the first ever United Cup team event in Sydney with an emphatic 4- 0 win over Italy and a sore head for one of its team members. 
As Taylor Fritz secured the win for the Americans there were jubilant celebrations from the rest of the team including an excited Frances Tiafoe who ploughed straight into his compatriot.
Team USA put in strong performances all week, winning their group stage against Germany and Czech Republic, before defeating Great Britain and Poland to earn their place in the final.
Not only did USA win, but all four top ranked players won their singles matches in the final completely overpowering the Italian team.
World number three Jessica Pegula set the team off to a great start defeating Martina Trevisan in straight sets followed by Frances Tiafoe who was a set up against Lorenzo Musetti when the young Italian was forced to retire.
With the team 2-0 up, that left US men's number one Taylor Fritz to take on Matteo Berrettini in a tight match between two of the ATP's biggest hitters.
And through gruelling long rallies, Fritz won two nail-biting tie-breaks to win in two sets, putting them 3-0 up and clinching the victory for the team.
"It's great. It's amazing for the team to win this event," said Fritz after the match.
"We came in with really high hopes, or at least I did, for the event. I was really happy to be in that position to clinch the match."
As Fritz secured match point, the rest of the team ran from the team zone and tackled the 25-year-old to the ground in celebration resulting in a bit of accidental rough and tumble with Tiafoe.
"It's just so much more exciting, there's so much more emotions," Fritz said.
"You can celebrate with your whole team as opposed to just celebrating by yourself.
"As soon as I won, I turned to the team and I knew everyone was going to run at me. It was great until Frances full speed head-butted me in the face."
Jessica Pegula agreed that the team dynamic was special and said they'd been doing lots of off-court activities to improve their teamwork.
"We've had a really great, like eternity, in Sydney," Pegula said "It's been really fun though. We have been bonding a lot, I feel like getting to know each other a lot.
"We did three escape rooms in one week. Literally everyone last night was [saying], 'We need to do an escape room again to keep the team chemistry going. I did not think that was going to happen coming into this. Hey, here we are. It was fun."
Teammate Tiafoe added, "It's been a special week. Everybody behind me too. Yeah, it takes a village to do something special. It's been a hell of a week."
Madison Keys completed the 4-0 thrashing and in doing so preserved her own unbeaten record with a 6-3, 6-2 win over Lucia Bronzetti.
Both Keys and Tiafoe finished their United Cup campaign with a perfect 5-0 record while Pegula and Fritz both ended with a 4-1 record.
Team USA finished the United Cup with a combined 22-2 match record which will give all team members confidence a week ahead of the Australian Open. 
Please follow Tennisbuzz on Twitter and Instagram, and you can like us on Facebook by clicking here.
For more exclusive content from Tennisbuzz, including news, features, trivia, promotions and more, please be sure to bookmark our home page.