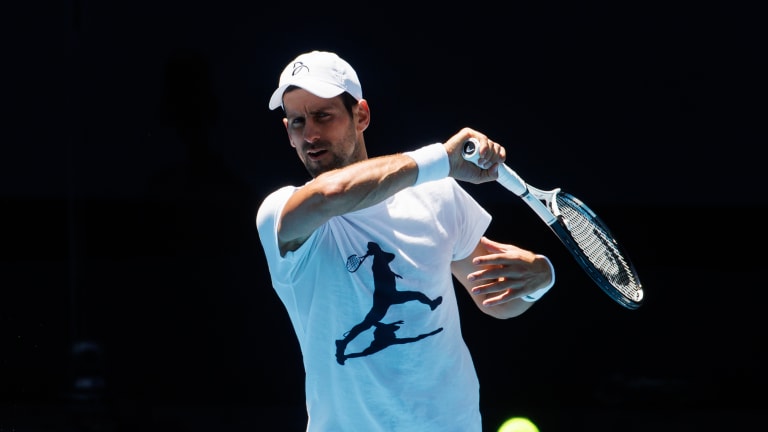 'How young does Novak Djokovic look?!' - Analyst stunned by Serb's level
Novak Djokovic looking so good a former world number one is jokingly questioning his birth certificate.
Novak Djokovic is defying the aging process as he gets older, says former world number one Mats Wilander. 
Djokovic is 35-years-old now but he showed in the second half of last season that he is arguably better than ever. 
He has made a strong start at the Australian Open too, beating Roberto Carballes Baena 6-3, 6-4, 6-0 in the first round. 
While most players are just hanging on at that age or starting to decline, Djokovic only appears to be getting stronger, and Wilander is in awe of that. 
"His legs are a little bit stronger, he seems a little bit thicker, and the way that the game is going, it's going faster, people are hitting the ball harder," Wilander told Eurosport. "You just watch someone like Matteo Berrettini, the guys are smacking the ball.
"Does Novak need to play like he did in the third set from the first point? Maybe against one or two or three players, but I think he's going to play the way he wants to play in the beginning and then he has this reserve of just letting it go.
"How young does he look out there? He's not 35, something is wrong with his passport for sure, his birth certificate is wrong! I mean, 35, looking like that!"
Djokovic was certainly impressive against Carballes Baena, who he mercilessly bagelled in the final set. 
That was despite a heavily strapped thigh due to an ongoing hamstring injury. Wilander, though, believes he is looking ominously good already.
"Djokovic came out and was hitting the ball so hard," he said. "He was very engaged the whole time. The leg looked OK. And to finish 6-0 with so many winners, it's the perfect start.
"He was hitting his forehand harder than he's ever done. He could hit the forehand anywhere at anytime, so hard and so precise.
"He has so many options, he can come to the net, hit his forehand 140kph, and has probably the best two-handed backhand in the world. How do you beat that? Not many people have on this court."
Watch every match from the Australian Open live and exclusive on discovery+, Eurosport and the Eurosport App
Please follow Tennisbuzz on Twitter and Instagram, and you can like us on Facebook by clicking here.
For more exclusive content from Tennisbuzz, including news, features, trivia, promotions and more, please be sure to bookmark our home page.