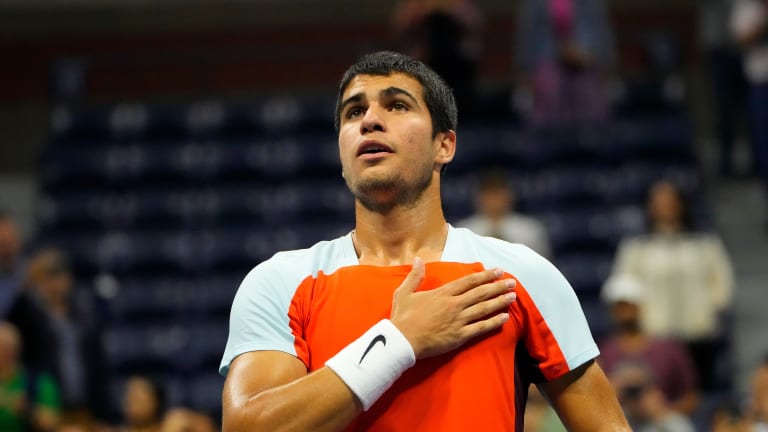 'I never thought I'd be number one this fast' – Carlos Alcaraz reflects on his fast track to the top
Teen tennis star Carlos Alcaraz has spoken out about his fast climb up the rankings.
Carlos Alcaraz has confessed his surprise at becoming the new world number one in men's tennis so quickly. The 19-year-old clinched the top spot after bagging his maiden Grand Slam at the US Open last month.
By winning the US Open, Alcaraz became the youngest player to win a Grand Slam since Rafael Nadal in 2005, as well as the youngest world number one in history.
Alcaraz reflected on how his goal at the beginning of this year was to break into the top 15 players.
"I think I said at beginning of the year that the goal was to be in the first 15 players,'' Alcaraz said.
"And now I'm number one. From now until the end of the year, I have some good tournaments ahead. [My goal] is to show the best of myself in those tournaments. I never thought I'd be the number one this fast."
It's fair to say the Spaniard has overachieved quite significantly considering he's currently the world number one and has a Grand Slam title under his belt already.
"I haven't had too much time to understand what I achieved at US Open," the teen continued.
"Honestly, I feel normal. I feel like I'm the same kid, the same guy. Of course, it's great to achieve what I achieved at the US Open and [becoming] number one in the world, but I feel the same.
"It's the tennis world – week after week, tournament after tournament. You have to keep focused on your goals and training."
It hasn't been smooth sailing since acquiring the top spot, however, as Alcaraz lost his first match as the new world number one. The teen also suffered a shock first round exit in the Astana Open on Tuesday to lucky loser David Goffin, who won in straight sets. Alcaraz is next scheduled to play at Swiss Indoors Basel later this month.
Please follow Tennisbuzz on Twitter and Instagram, and you can like us on Facebook by clicking here.
For more exclusive content from Tennisbuzz, including news, features, trivia, promotions and more, please be sure to bookmark our home page.