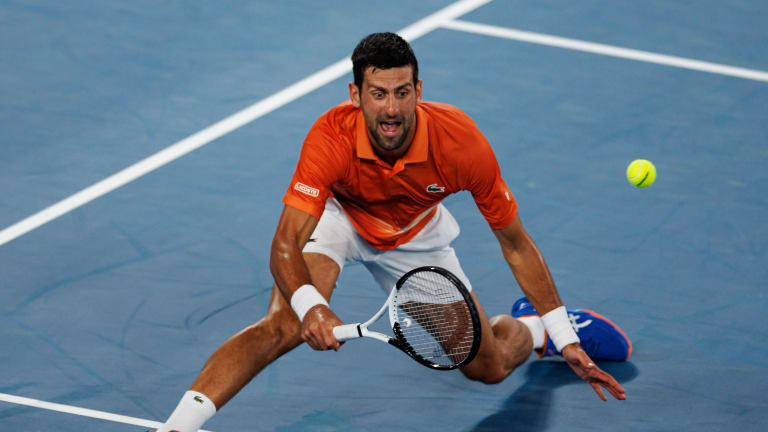 'I want to be the best, there is no secret about it,' says Novak Djokovic
Djokovic says his desire to be the best is why he keeps on playing
Novak Djokovic says he is targeting Rafael Nadal's 22 Grand Slam title record and more as he begins his Australian Open challenge this week.
Djokovic holds the record for the most Australian Open titles with nine, although he is still one behind rival Nadal in the overall Grand Slam race, with 21 majors to his name.
Asked if Nadal's record is a motivating factor, Djokovic replied: "Of course, it is. That's why I keep on playing professional tennis, competition tennis, because I want to be the best, I want to win the biggest tournaments in the world. There is no secret about it.
"It doesn't get bigger than this. You have four Slams that historically have been the biggest events in our sport.
"It's also one of the biggest reasons why I was really looking forward to come back to Australia: because of my record here.
"I really love playing in Rod Laver Arena, particularly night sessions. I've had plenty of success that hopefully can continue this year."
Nadal is the defending champion of the Australian Open, and number one seed, having won it in 2021, when Djokovic was unable to play due to covid vaccination restrictions.
However, Nadal had a disrupted 2022 season due to injury and has only played competitively 11 times since having to withdraw from Wimbledon semi-finals with an abdominal tear last summer.
Of those 11 games, the Spaniard has only won four, and lost seven, including both singles matches that he's played this year.
Meanwhile Djokovic, who is fourth seed, has been in incredible form, winning six of the last eight tournaments he's played in since May 2022 and reaching the finals of the other two.
The Serbian appeared to tweak his hamstring while playing the semi-final of the Adelaide International two weeks ago, which also made him withdraw from a public practice, but he says it shouldn't affect his Grand Slam campaign.
"It's hopefully not [of] major concern," said Djokovic.
"So far I've been able to train, compete and play points, practise sets. So that's a positive sign.
"Obviously, I'm being a bit more cautious. I'm not going full out on the training sessions, conserving the energy for next week. Hopefully it won't cause an issue for me then."
Djokovic will open his campaign to win his tenth Australian Open against Roberto Carballes Baena from Spain on Tuesday on the Rod Laver Arena. 
Please follow Tennisbuzz on Twitter and Instagram, and you can like us on Facebook by clicking here.
For more exclusive content from Tennisbuzz, including news, features, trivia, promotions and more, please be sure to bookmark our home page.