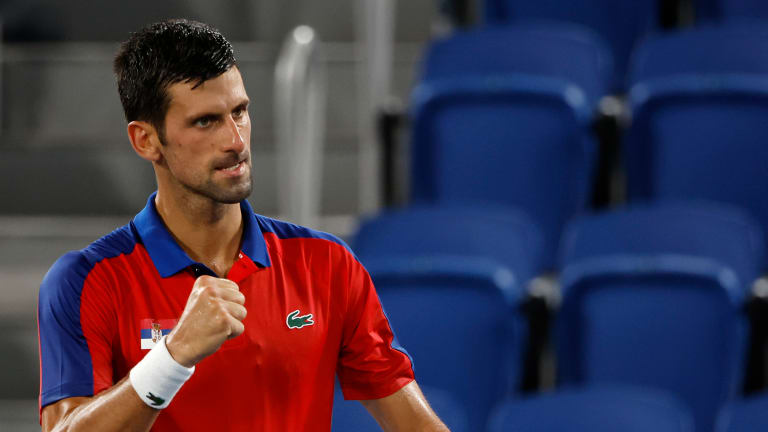 'I will continue to play' vows Novak Djokovic despite injury
Novak Djokovic is through to the Australian Open third round but hampered by injury
Novak Djokovic struggled through this second-round match at the Australian Open and said afterwards he will continue to play despite a hamstring injury.
The Serbian picked up the injury in the Grand Slam warm-up tournament in Adelaide while playing Daniil Medvedev in the semi-final.
He went on to win that tournament but withdrew from one public practice and cancelled another practice before the Grand Slam as a precaution to try to rest it.
The 21-time Grand Slam champion eased through his first-round match against Roberto Carballes Baena in straight sets but with a heavily strapped hamstring.
However, he appeared physically hampered in his second-round match against qualifier Enzo Couacaud, requiring an off court medical time-out in the second set.
Visibly wincing, and on occasion limping and hopping, Djokovic battled through the second set, which he lost, but seemed to find a way to win the match, eventually defeating the Frenchman 6-1, 6-7, 6-2, 6-0.
His opponent also suffered an injury, turning his ankle early in the first set, and had looked for a moment like he may not be able to continue. 
Djokovic said afterwards that they both did well to continue playing and admitted ongoing concerns with the injury.
"I am happy that I managed to win this match, credit also goes to Enzo who played well. We both had injuries," said Djokovic.
"Things are not ideal with my injury, I don't want to go too deep into it, I wish I felt differently, but it is what it is.
"You have some time to recover, I'm going to that, I'm not going to train in the days in between, in order to get at my level."
Djokovic says he and his team are going to do everything they can to prepare his body for the next round and when it comes down to two choices, continue or quit, there will only ever be one answer.
"I have reason to be worried, but I understand the situation," he said.
"My physio and my team are doing everything to prepare me to play every match. I have two options, to continue or to give up, but I will continue to play, that's what I choose. I know that each match will be more difficult than the last."
Please follow Tennisbuzz on Twitter and Instagram, and you can like us on Facebook by clicking here.
For more exclusive content from Tennisbuzz, including news, features, trivia, promotions and more, please be sure to bookmark our home page.