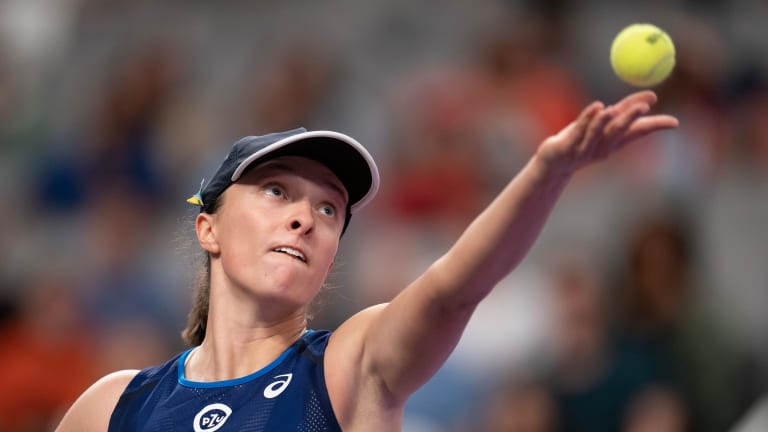 Iga Swiatek survives 'tricky' first round at the Australian Open
The world No. 1 fought back from a break down in the second set to secure her place in the second round.
A 'nervous' Iga Swiatek was relieved to have survived her first round encounter with German Jule Niemeier on Monday night at Melbourne Park.
The number one seed went 5-3 down in the second set as a potential upset was brewing, but Swiatek fought back to defeat Niemeier 6-4, 7-5.
Niemeier is somewhat of an Achilles' heel for the Pole having taken a set off her at the US Open just four months ago, so Swiatek was happy to have made it through in straight sets.
When asked how she felt about the match, the world No. 1 admitted she had been feeling nervous during the clash.
''Pretty amazing,'' Swiatek said. ''Besides being nervous, I really enjoyed it.''
''Honestly, I really wanted to be focused on myself because I know that Jule can serve amazing.
''At the US Open she was also using these fast conditions that we played in and she was really putting pressure on me so this time I just wanted to not really think about that but think about what can I do to push her back.
''I'm pretty happy that I kept this attitude, it's always easier to focus on yourself, so I'm pretty happy that I got through this match because first round is always tricky and I guess with an opponent like Jule it's even more tricky.''
The 21-year-old also revealed that the expectations on her to easily win her first-round matches add significant pressure which is difficult to deal with.
''For sure I feel the expectations, that people a little bit they want to take for granted that I'm going to win those first rounds.
''It's always not easy. Every match is a different story. You have to really work hard to make it done.
"I just wish that some people would understand a little bit more how it is to compete every week of your life basically. You just have to deal with that. Maybe it will be a little bit easier if there were less people that are judging."
Swiatek will now face Colombian Camila Osorio in her second-round match on Wednesday.
Please follow Tennisbuzz on Twitter and Instagram, and you can like us on Facebook by clicking here.
For more exclusive content from Tennisbuzz, including news, features, trivia, promotions and more, please be sure to bookmark our home page.