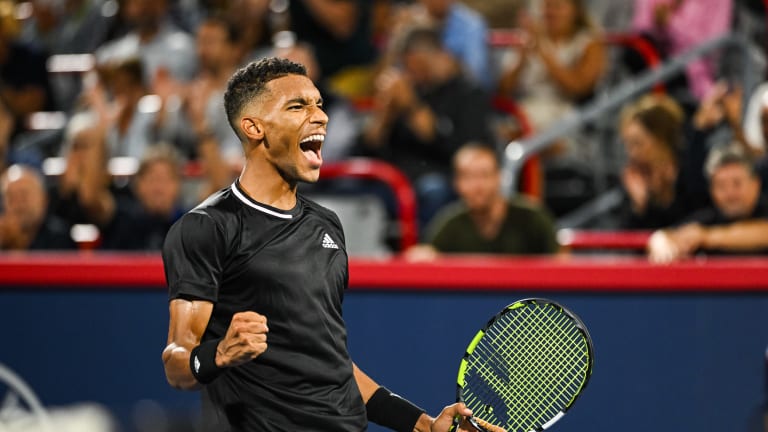 'It makes me proud', says Felix Auger-Aliassime as he reaches Montreal quarterfinal
Felix Auger-Aliassime has earned himself a slice of history at the Canadian Open.
Felix Auger-Aliassime has become the first Quebecois to reach the final eight in his native Montreal
He saw off competition from British number one Cameron Norrie to book himself the quarter final place, winning 6-3, 6-4.
After the match Auger-Aliassime discussed what it meant to him to do it in front of a home crowd.
"Montreal people, French Canadians, are really proud people," said Auger-Aliassime.
"We're a small community in the world and we support each other in everything we do. Especially in professional sports, I think whenever you see an athlete coming from the province of Quebec do things on the world stage, people are very proud.
"It makes me proud to be in that position, for sure," said the Canadian who celebrated his 22nd birthday this week.
He will now face the last remaining highest seed in the competition, Casper Ruud, to progress to the semi-final.
In a surprising twist, all top three seeds (Daniil Medvedev, Carlos Alcaraz and Stefanos Tsitsipas) were knocked out of the competition in round one. It was the first time that has happened at a Masters event since Indian Wells in 1999.
Ruud has had incredible year, already reaching two finals, the Miami Masters and his first Grand Slam final at Roland Garros. 
The pair have only played each other twice before, both taking one win each. But Auger-Aliassime knows what a challenge Ruud will be to beat. 
"He's a tough opponent," said Auger-Aliassime. "He's one of the most solid and consistent players we have right now on the Tour. Of course, we all know his quality on clay, but I feel like in the last year he's improved tremendously all his shots. 
"The forehand has always been good, the backhand has improved a lot, the serve as well. He's very good physically. I'm expecting a tough match. He's not an easy guy to beat."