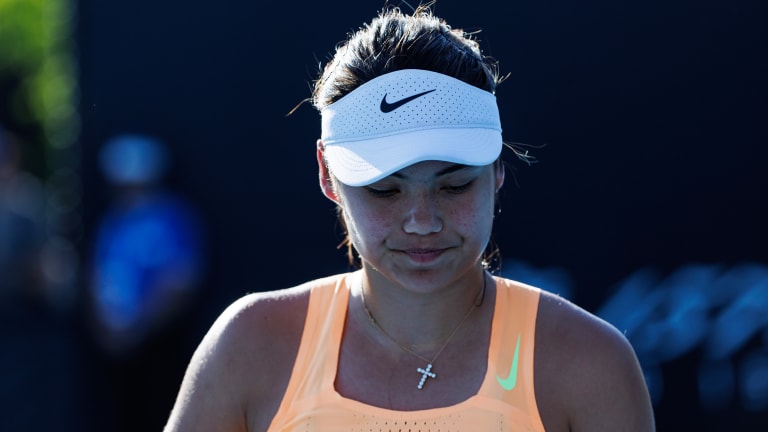 'It's been hard to watch Emma Raducanu,' says John McEnroe
John McEnroe hopes Emma Raducanu can let loose and play freer from now on
John McEnroe says it's been difficult to watch Emma Raducanu struggle in her first full year on the WTA tour but hopes those initial pressures are now over.
Raducanu pulled off a shock result in 2021, winning the US Open as a relatively unknown qualifier and had a meteoric rise to fame because of it.
With the fame, came both the glory, as she was awarded an MBE along with various other awards, but also added spotlight and pressure which followed her throughout the 2022 season.
Plagued with injuries and a disrupted season where she tried working with several different coaches, the young Brit's form dropped, taking her from a top ten ranking down to 77th in the world.
After breezing through her first-round match at the Australian Open this week, Raducanu will now face young American Coco Gauff in the next round and McEnroe believes enough time has passed for that pressure to be manageable.
"My thoughts are that it would probably be the first time in a couple of years where Emma Raducanu won't be feeling the type of pressure she's been feeling since she won the US Open," McEnroe told Eurosport.
"So, that's probably a good thing to allow her to sort of be more free and do her thing because to me, she's the play the type of player and the type of person and type of talent that we could use in the top 10."
Raducanu broke records with her US Open win by becoming the first qualifier ever to win a Grand Slam. 
And as an 18-year-old student fresh out of studying her A-Levels, she was thrust into a media frenzy and subsequent touring schedule that she wasn't mentally or physically prepared for.
In contrast, her second-round opponent Gauff, who is still only 18 years herself, has played on the tour for several years already and McEnroe thinks it'll be a great match.
"It's been sort of hard to watch her (Emma's) difficulties. But she's also playing someone [Gauff] who's gone at a slower pace and sort of matured more gradually, only 18 but been on the tour four years," said McEnroe.
"To me it's a great second round matchup and I think it's going to be the first time in a while where Emma can really sort of let loose and play more free. So, it's going to be interesting to see what happens there."
All Australian Open matches are live and exclusive on Eurosport and discovery+.
Please follow Tennisbuzz on Twitter and Instagram, and you can like us on Facebook by clicking here.
For more exclusive content from Tennisbuzz, including news, features, trivia, promotions and more, please be sure to bookmark our home page.