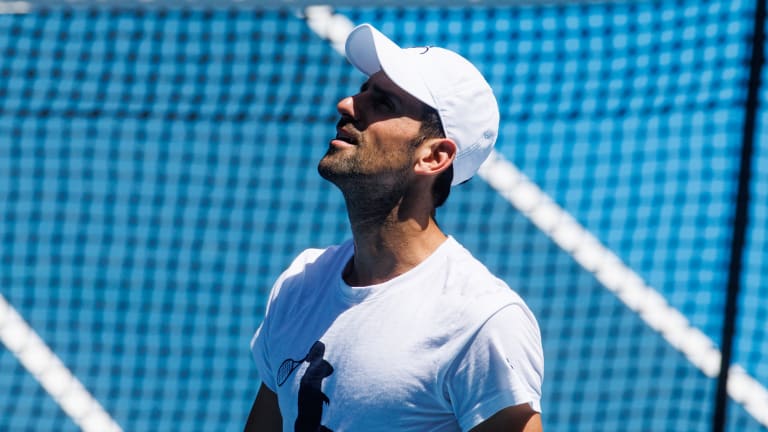 'It's not good at all to be honest' – Novak Djokovic's injury admission as he prepares for Australian Open third round
''It's up to God, and my physio to help me…''
Novak Djokovic has advanced to the third round of the Australian Open but concerns are growing over his hamstring injury which he claims is getting worse.
The fourth seed defeated Enzo Couacaud 6-1, 6-7(5), 6-2, 6-0, dropping just the one set but serving up a bagel for the Frenchman in the fourth.
Djokovic's left hamstring was heavily strapped throughout the match and despite the relatively easy win, the 35-year-old admitted after the match that the injury was intensifying and that he will have to take it 'day by day'.
''It's not good at all to be honest,'' Djokovic told Eurosport after the match.
''I'll take it day-to-day, it was better last match, the feeling, than tonight.
"That's all I can say. It's up to God, and my physio to help me. Let's take it day by day, I hope I'll be able to recover.''
The Serb said that he was relieved not to have to go to five sets but applauded his opponents performance during the second set.
''I'm just glad to get through this kind of match and in four sets," Djokovic added.
"Obviously I wanted to get through in three but credit to him for playing some really good tennis towards the end of the second.
"Some really interesting circumstances you have to deal with, but I guess that's Grand Slams. It can be electric in both a positive and negative way. For a player on the court, you just have to accept it and get the most out of it.''
There's no doubt that Djokovic will have to be on form as he is set to face the No. 27 seed Grigor Dimitrov in the third round on Saturday.
Please follow Tennisbuzz on Twitter and Instagram, and you can like us on Facebook by clicking here.
For more exclusive content from Tennisbuzz, including news, features, trivia, promotions and more, please be sure to bookmark our home page.