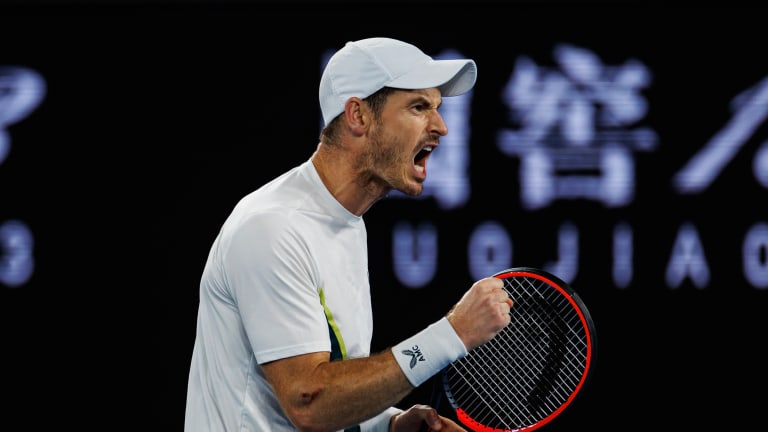 John McEnroe explains why 'legendary' Andy Murray makes him proud of tennis
Andy Murray 'is one of the great players of our era that is not talked about,' says McEnroe.
John McEnroe says Andy Murray made him feel 'proud' of tennis after his incredible five-set comeback win at the Australian Open.
Murray was two sets and a break down against Thanasi Kokkinakis with the Australian producing some immaculate tennis.
However, Murray refused to quit and somehow found a way to win the match to stun just about everyone, including John McEnroe.
"I am stunned in disbelief that they were still playing at that hour," McEnroe told Eurosport. "For starters, it was insane that matches at that level are played 4-430am in the morning.
"Murray, we knew he had a heart of a champion, that goes without saying, but that's you know, him digging deeper and deeper than I've ever seen him with everything he's been through.
"It makes me personally, as an ex-player, proud to look at these tennis players – Andy, in particular, Kokkinakis, you feel for him, but it's one of those moments where you feel proud of your sport and you see guys giving 110% for 5.5 hours. "
The match went nearly six hours, which made it the longest of Murray's long career so far.
That followed a near-five-hour clash with Matteo Berrettini in the first round. McEnroe worries that will make things hard for Murray to advance further in the competition, but for now he is just in awe of the former world number one.
"While on the one hand, it is historic, you also worry, you know about the consequences down the road," he said. "There's recovery, when you could even possibly think about going to sleep, how do you even look at the next opponent?
"Those are things for tomorrow and you hope that in some way there could be some type of level of recovery but just enjoy the moment - you put a smile on everybody's face. It was one of the most insane things I've seen in all my years watching tennis.
"I would say to Andy Murray that you make our sport shine. The never give up, never say die mottoes that you hear, cliches. You would send his way right now because this is about the love of the sport more than anything else. His desire to compete, to go out and just give what he's got.
"This guy is one of the great players of our era that is not talked about because of what the other three top guys have accomplished, but he's a legendary player and I think that these type of matches cement his reputation even though the likelihood of recovery is not high.
"I would hope he can enjoy the moment and hope that he can rebound to some extent."
Watch every match from the Australian Open live and exclusive on discovery+, Eurosport and the Eurosport App
Please follow Tennisbuzz on Twitter and Instagram, and you can like us on Facebook by clicking here.
For more exclusive content from Tennisbuzz, including news, features, trivia, promotions and more, please be sure to bookmark our home page.