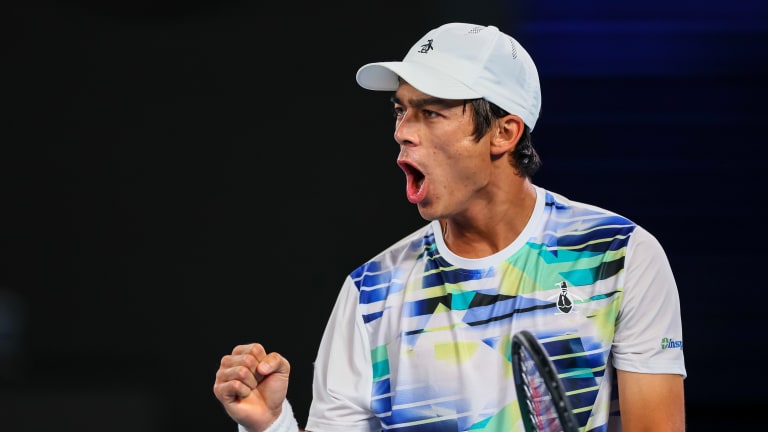 Mats Wilander credits MacKenzie McDonald for 'technical knockout' of Rafael Nadal
Eurosport experts analyse American's strategy in Australian Open shock.
Former world number one Mats Wilander has credited Mackenzie McDonald for breaking down Rafael Nadal at the Australian open. 
McDonald stunned the defending champion in the second round, beating him in straight sets while the Spaniard struggled with a hip injury. 
However, Wilander believes that while Nadal was unfortunate to get injured, the quality of McDonald's play should not be overlooked either. 
"There's a lot of bad luck involved when you get injured, but you have to look at what happened and Rafa got pushed out to his forehand corner a little too much because of Mackenzie's inside out forehand," Wilander told Eurosport.
"Rafa has to run for it and eventually he gets hurt so in my eyes it's a technical knockout, probably because we're watching a man who is 36-years-old and hasn't played enough matches, but it's down to a lot of bad luck obviously.
"No-one got a hip flexor [injury] in the 80s as the game wasn't quick enough. There were times when you ran 100% for something but the steps in between shots were never explosive enough to hurt yourself.
"The game today is so different and it can happen at any time. It's so much faster and you need to push off immediately and there is a lot of luck involved."
Wilander's Eurosport colleague Tim Henman agreed and, although keen to credit McDonald for his win, he felt it was 'sad' to see Nadal break down again. 
"It was horrible to see," Henman said. "We've seen Nadal deal with so many injuries during his career but on this stage after his performance 12 months ago, to suddenly pull up... 
"When he pulled up that sharply, we thought the writing was on the wall but McDonald still had to keep his focus and at the end of the day he deserved his victory.
"It's one of those nightmare injuries. The game is physical for everyone and movement is important but when you get that sharp pain, it's not good news because you think you've pulled something. 
"We were watching and thinking this is not looking good. It's a sad sight."
Watch every match from the Australian Open live and exclusive on discovery+, Eurosport and the Eurosport App
Please follow Tennisbuzz on Twitter and Instagram, and you can like us on Facebook by clicking here.
For more exclusive content from Tennisbuzz, including news, features, trivia, promotions and more, please be sure to bookmark our home page.