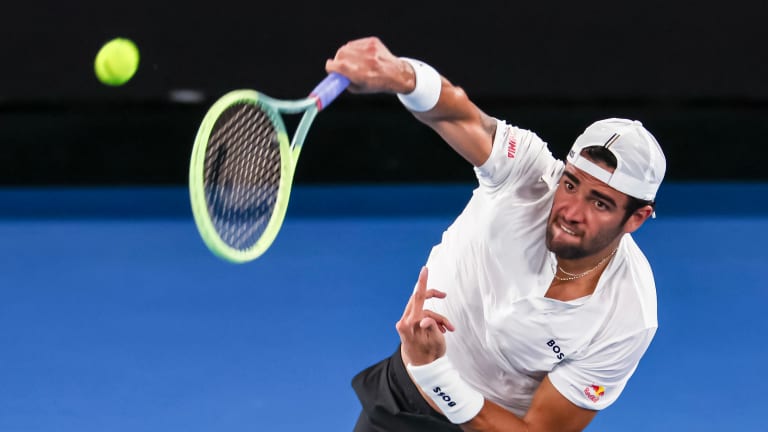 Matteo Berrettini must 'get that belief back', says John McEnroe
Matteo Berrettini crashed out of the Australian Open in the first round on Tuesday.
John McEnroe think it's crucial for Matteo Berrettini to start believing in himself again if he is to continue competing at the top level.
Berrettini suffered a shock first-round exit from the Australian Open on Tuesday after a gruelling five setter against Andy Murray, despite having match point in the deciding set.
The 13th seed looked utterly deflated in his post-match press conference as he admitted that it was difficult to talk about the match considering how close he came to a victory.
The loss means the Italian will drop out of the top 20 of the ATP rankings for the first time since 2019, and McEnroe thinks it will take hard work and a lot of self-belief to get him back in the top 10.
''The backhand has been a little bit of a kryptonite for him in his career, his game revolves around his serve and his forehand,'' McEnroe said.
''He's had some back luck with injuries the last year and I think that's what really set him back more than anything else.
''So, in a way, I think he's still trying to build confidence, he's certainly a player that you don't want to play early in an event but that was sort of a bad draw for both of them [Berrettini and Andy Murray].
''I think you're still going to see him compete at the Majors but he's got to get that belief back right now which I think he's lost since he got to the finals of Wimbledon.
''You could feel that he thought he was close to making the breakthrough and now, he feels a little further away.
''It's going to take a lot of work and belief and a little bit of luck to get him back in the top 10.''
Please follow Tennisbuzz on Twitter and Instagram, and you can like us on Facebook by clicking here.
For more exclusive content from Tennisbuzz, including news, features, trivia, promotions and more, please be sure to bookmark our home page.