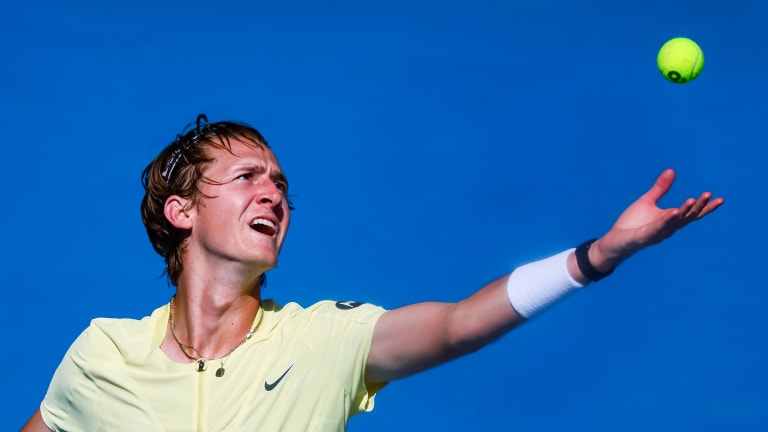 'More positives than negatives' – Sebastian Korda reflects on commendable Australian Open run
The American was forced to retire from his quarter-final match with a wrist injury.
Sebastian Korda's quest for a maiden Grand Slam title abruptly came to an end after a wrist injury forced him to retire from his quarter final clash against Karen Khachanov.
The injury surfaced mid-way through the second set and Korda received a medical timeout to have his wrist strapped, but the damage was done and the 22-year-old retired with Khachanov leading 7-6(5), 6-3, 3-0.
After the match, Korda revealed that it was not a new injury but something he had dealt with at the Adelaide International 1 earlier this month.
''I had it a little bit in Adelaide a couple weeks ago, but then it went away,'' Korda explained.
''During the matches [in Melbourne], it was completely fine. Then just one kind of mishit return, and it started to bother me a lot of after that.
''I kind of knew what it was right away, right when I hit the return. I kind of felt that spot that I was feeling before. Some forehands I couldn't even hold the racquet. Volleying was almost impossible for me. So it was a little tough.''
Despite the disappointing end to his first Grand Slam quarter-final, Korda insisted that there are more positives than negatives and vowed to continue working hard.
''There are a lot of positives,'' he added.
''Way more positives than negatives. Today was tough, but hopefully it's nothing serious and I can take care of it, so I don't have it in the future.
''[It was] still a great tournament. My first quarter-final in a Grand Slam. I'm going to go forward with my head high and keep working.''
Korda was asked whether his impressive victories over the likes of seventh seed Daniil Medvedev and 10th seed Hubert Hurkacz on the way to the quarter-finals had reassured him that he could go all the way and win the title.
''I mean, you obviously feel good on the court," Korda said.
''You obviously are playing against really good opponents, you're beating opponents, and you definitely feel good about yourself. You know, the more you play, the better you feel.
''I just was playing some really good tennis. I know probably nobody really wanted to play me right now. I really believed in myself the whole time.
''[I have] a lot of confidence now. I have always been very close to winning the big matches, but now I'm getting through them. I think that's a huge lesson I have been learning and going forward I'm really proud of myself.
''Going forward, I'm going to keep on trying to do the same thing, keep on mentally being the same way. You know, I think I can do some really big things in the near future.
Please follow Tennisbuzz on Twitter and Instagram, and you can like us on Facebook by clicking here.
For more exclusive content from Tennisbuzz, including news, features, trivia, promotions and more, please be sure to bookmark our home page.