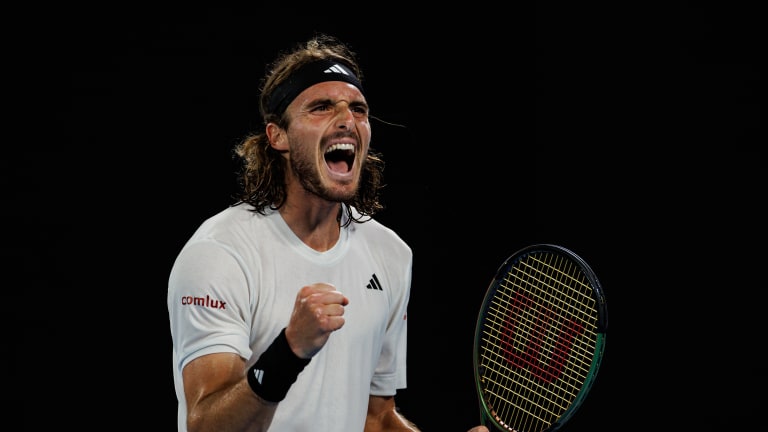 'My mentality is different,' says Stefanos Tsitsipas as he eyes maiden Grand Slam title
The Greek is just two wins away after a straight-set victory in the Australian Open quarter-finals.
Stefanos Tsitsipas is 'hungry' for his first major and is one step closer as he cruises into the Australian Open semi-finals.
The Greek produced some impressive tennis during his clash with rising star Jiri Lehecka on Tuesday, defeating the Czech 6-3, 7-6(2), 6-4 in a brisk two hours and 17 minutes.
Tsitsipas, who has dropped just two sets throughout the tournament so far, revealed after the match that his mentality has changed for the better recently, causing him to be a 'different player' and have the self-confidence needed to chase down a Grand Slam title.
''I'm feeling great with my tennis,'' Tsitsipas added.
''I don't think I felt so good in a long time. I will definitely say yes [to winning the title].
"I've said it, I'm a different player, playing different. My mentality is different.
"When I'm out on the court, I don't really think of negatives, to be honest. I just go out there and play the game.
''There is this one sort of way of looking at tennis that you're really exhausted after every match. Every single thing you try to do on the court takes a lot of effort.
"There's this other version of tennis where you're doing your job, but you're enjoying it so much you don't care if it's exhausting or not. You're refreshed by it every single time.
''I think I'm heading towards more of that lately than the other thing. I'm very happy to be out on the court. I'm very happy to be performing. I'm very happy to hit some good shots, come in.
"It's just this whole dynamic that has made me very hungry and has created a lot of desire for me to be playing tennis, wanting to achieve new things."
Having previously reached three Australian Open semi-finals, the 22-year-old is bidding to go one step further and will face 18th seed Karen Khachanov on Friday for a place in his first final in Melbourne.
''It's a match that I'm looking forward to," Tsitsipas said.
"Of course, I'm definitely happy with the way I've been playing so far.
"I'm looking ahead for more, for better. Looking to create some magical experiences here in Australia.''
Please follow Tennisbuzz on Twitter and Instagram, and you can like us on Facebook by clicking here.
For more exclusive content from Tennisbuzz, including news, features, trivia, promotions and more, please be sure to bookmark our home page.