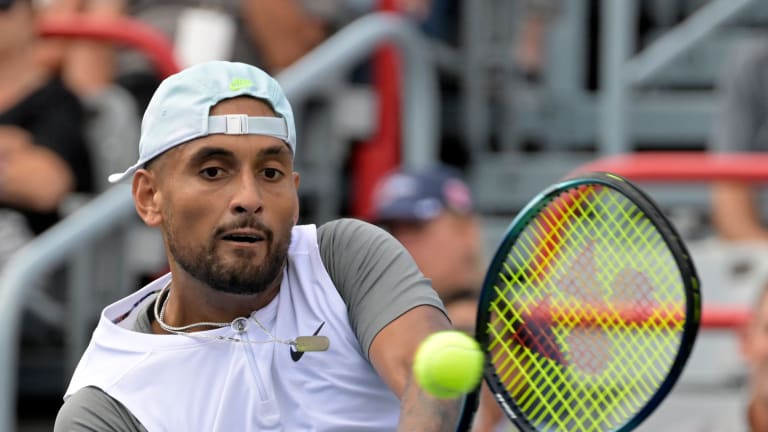 'Nick Kyrgios is the one player who can compete with the Big Three,' claims Andy Roddick
Is Nick Kyrgios one of the favourites to win the US Open?
Andy Roddick believes Nick Kyrgios is the only player who can compete with Rafael Nadal, Novak Djokovic and Roger Federer.
Kyrgios has long been regarded as one of the most talented players in the world, although he has not had the mental discipline to make the most of it.
The Australian appears to have turned that around this year, though, with him reaching the Wimbledon final before losing to Djokovic.
He backed that up by winning both the singles and men's doubles in Washington earlier this month, and Roddick believes that makes him a genuine contender for the US Open title – especially with Djokovic likely to be absent.
Speaking to the Rich Eisen Show, Roddick said: "Can Nick Kyrgios Win the US Open? He is there, he is part of this group [who can win it].
"Obviously, we will have to deal with the drama of Novak Djokovic. No one has ever questioned Kyrgios's physical abilities.
"He is the only player who can compete physically with the Big Three, at least from my point of view. His physical talent, however, does not always match up with perfect physical shape. He certainly doesn't have the same mental strength as the Big Three.
"Reaching the final at Wimbledon, winning several games in the best of five sets and playing well under pressure are all good things for Nick. In Washington the playing conditions were brutal: winning both singles and doubles was a great sign.
"What he did in Washington consecrates him as one of the first two, perhaps three, favourites at the US Open."
Interestingly, Roddick appears to have overlooked Daniil Medvedev in his analysis, which is odd given he is the defending champion at the US Open.
He also beat Novak Djokovic to win that title, and has actually reached the final in all of the last three hardcourt tournaments. It is, therefore, a strange omission.