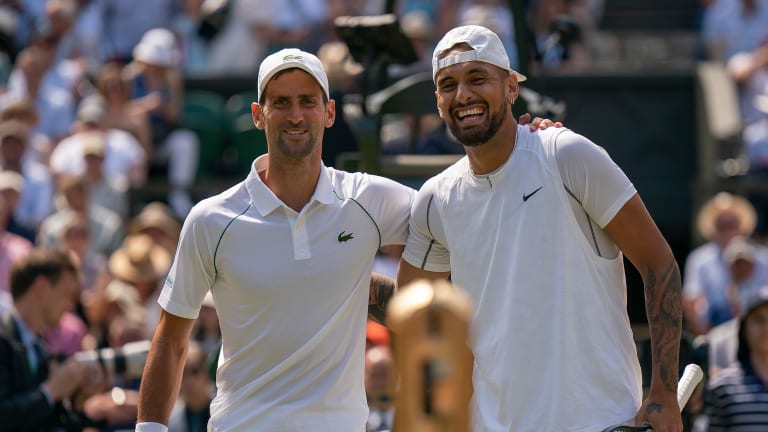 Nick Kyrgios pays tribute to 'special' Novak Djokovic
Kyrgios wants Australian Open crowd to appreciate the greats like Novak Djokovic
Nick Kyrgios says players like Novak Djokovic are important for the game and people don't realise how special they are.
Speaking about the return of Djokovic to Australia since the deportation saga last year, Kyrgios paid tribute to the Serbian and his fellow greats.
Roger Federer, Rafael Nadal and Djokovic, commonly known as 'the big three', have won an incredible 63 Grand Slam titles between them.
And while Federer has now officially retired, Djokovic and Nadal are both very much active and still in contention for this year's Australian Open title.
"It's so important to have him around," Kyrgios told Channel Nine about Djokovic.
"Obviously one of the greats has already left us last year in Roger [Federer], and I don't think we actually know how special these guys are to our sport.
"So every time Novak is around at these events I want to beat him even though I can't at a Grand Slam.
"It's very important to have him around because he's one of the most important for our sport."
Kyrgios was the surprise defender of Djokovic last year when he was faced with the media backlash following his deportation from Australia.
The two players had previously had a contentious relationship with words exchanged about their very different approaches to tennis and professionalism.
However, since the Australian supported the 21-time Grand Slam champion publicly last January, the pair have become close friends and even hinted they may play doubles together in the future.
With Djokovic set to play at Melbourne Park for the first time since the incident last year, there has been a question over whether a section of the crowd may still harbour some negative feelings. 
But Kyrgios thinks the crowd should show respect and appreciate what they have.
"I think from a supporting point of view, I know that people are always going to have the people they hate and people they love. 
"I'm one of those players who deals with it everywhere I go with people screaming out inappropriate things. Fans love that rollercoaster ride.
"But I would just say that Novak's here and he hasn't made any rules. He's one of the greatest athletes of all time, not just on the tennis courts. So he's here and all he wants to do is to put on a show for Melbourne itself.
"He's not just doing it for himself. I think as fans we should be appreciating that. I know there are fans who are not going to want him to win but you can't cross that line.
"You guys have paid money to watch the guy play it. It's pretty contradictory if you're gonna go there and be a clown about it. You gotta respect him a little bit at the end of the day."
Please follow Tennisbuzz on Twitter and Instagram, and you can like us on Facebook by clicking here.
For more exclusive content from Tennisbuzz, including news, features, trivia, promotions and more, please be sure to bookmark our home page.