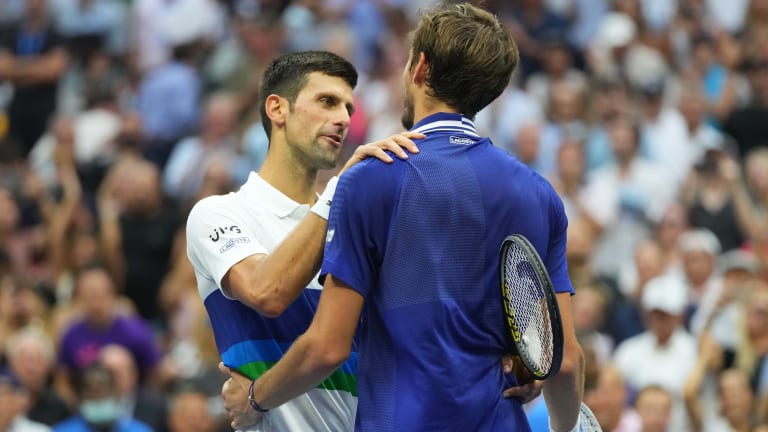 'I want Novak Djokovic to be allowed to play the US Open,' says Daniil Medvedev
Defending champion Daniil Medvedev believes Novak Djokovic should be able to try to take his US Open title.
Daniil Medvedev has reiterated that he wants Novak Djokovic to be allowed to play the US Open later this month.
Djokovic looks almost certain to miss out as government guidelines currently prevent unvaccinated foreigners from entering the United States.
That means that, unless there is a sudden and dramatic change to that policy, Djokovic will be unable to play the New York showpiece.
Last week, Medvedev went on record with his support for Djokovic, saying in Montreal: "Personally, if we are talking only from the point of view of tennis, without thinking about different positions, I want Novak to play at the US Open."
He has elaborated on that this week too ahead of the Cincinnati Masters, stressing that it's better for everyone if the best players can contest the biggest titles in tennis.
"For sure I cannot do anything," Medvedev said. "It's the government who sets the rules so I don't know if it can actually change or not.
"If you ask me, I mean if I would be the decision maker, for sure I want Novak to play."
"I like when [in] the tournament there are the best players in the world. He just won a Slam. This competition against Rafael Nadal [for the most Grand Slam titles] is super intense and super interesting, so I would love to see him there in New York.
"But if for the government rules he cannot be there, well everybody is still going to try to do their best and try to win the US Open."
Daniil Medvedev, who himself was not allowed to play Wimbledon this year due to a ban on Russian players, beat Novak Djokovic in the final of the US Open last year.