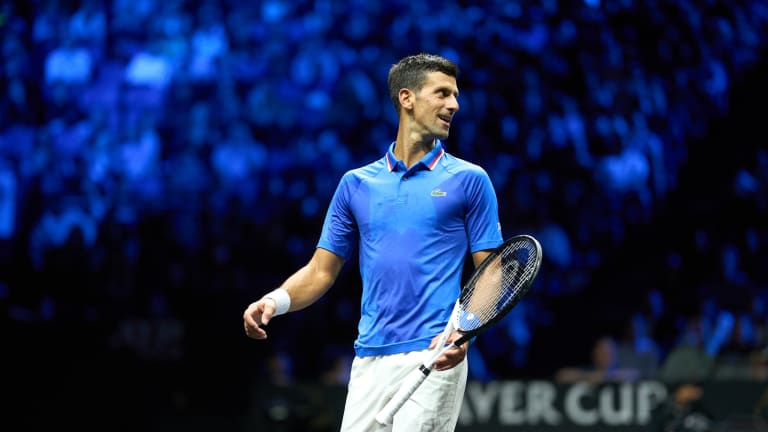 Novak Djokovic explains secret to how he adjusts quickly to different conditions
It was another powerful display from Novak Djokovic in his Astana opener.
Novak Djokovic was happy to put on a 'great performance' as he opened his Astana campaign with a dominant win.
The 21-time major winner easily overpowered Cristian Garin 6-1, 6-1 in Kazakhstan, with him barely giving the Chilean a look at a point throughout the whole contest.
Djokovic came into the tournament on the back of a brilliant performance in Tel-Aviv where he won the 89th title of his career.
He looks to have brought that form with him to Nur-Sultan, and he couldn't be happier with what he produced.
"From the start to the end, [it was] a great performance," Djokovic said.
"Playing in a new tournament, different conditions, the first match is never easy.
"Obviously you are looking to see how you are going to adapt, but I did it perfectly, really, played as well as I can.
"I just made him work and used every opportunity that was presented to me."
Novak Djokovic has had a stop-start season due to the scheduling challenges associated with his decision not to be vaccinated.
However, he has not no problems readjusting the changing conditions of the ATP Tour, and he says a lot of that comes down to confidence.
"I was lucky that throughout my career I was actually pretty quick in adjusting to different conditions and surfaces," said Djokovic.
"But I think that experience helps of knowing what to do.
"But [also] winning a tournament, [as opposed to] losing in a final or semis, makes a difference mentally.
"Coming into this tournament I feel confident, I feel excited, I feel motivated, so I think that helps as well to adjust quickly."
Please follow Tennisbuzz on Twitter and Instagram, and you can like us on Facebook by clicking here.
For more exclusive content from Tennisbuzz, including news, features, trivia, promotions and more, please be sure to bookmark our home page.