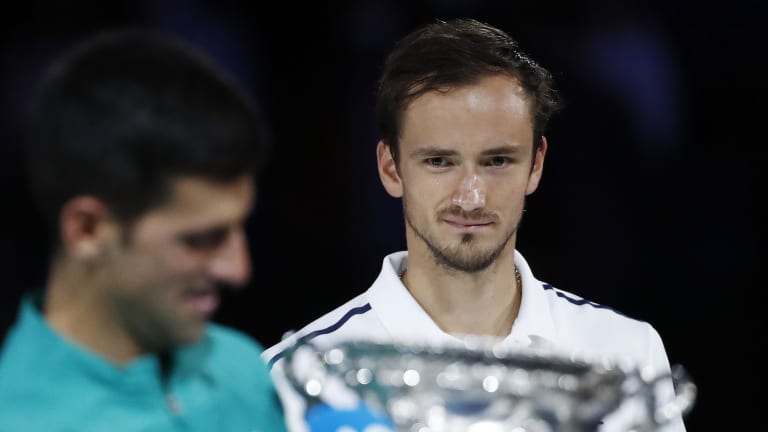 'Novak Djokovic is a different league', admits Daniil Medvedev after semi-final defeat
Medvedev full of praise for opponent Djokovic after Adelaide International loss
Daniil Medvedev says he was beaten by the 'best player in the world' as he fell in straight sets to Novak Djokovic in the Adelaide International 1 semi-final.
The pair met for their thirteenth head-to-head match, with Djokovic coming out on top for the ninth time, winning 6-3, 6-4, despite needing a medical time out in the first half.
It was the fourth defeat in a row for Medvedev against Djokovic, but afterwards the Russian said he was happy with how he'd played against such good opposition.
"Great week. Honestly, losing against probably the best player in the world right now," Medvedev said afterwards.
"Of course, Carlos [Alcaraz] in terms of rankings because he's done amazing in one part of the year, 2022. He's first. But also since he's not in Australian Open, Novak probably best in the world right now. He won four/five tournaments in a row.
"I felt great tonight, really great, that's good for Australian Open. But feeling that great, I lost. That's a little bit the negative."
Medvedev has been a finalist at the last two Australian Open's, getting beat by Novak Djokovic in the 2021 final and Rafael Nadal in the 2022 final.
However, in the same year he lost the Australian Open final to Novak Djokovic, he also managed to win his first Grand Slam title at the US Open, defeating the Serbian in the final.
The Russian says he hopes Djokovic isn't in his half of the draw at this year's Australian Open, but if so, he will draw on his experience of beating him in the past.
"So, yeah, hopefully no Novak on my side of the draw in Australian Open," said Medvedev.
"But even if it's not the case, going to try my best and going to try to do better next time like I was able to do against him before."
"I need to be better. That's it. That's what I managed to do in US Open after Australian Open loss. Australian Open was kind of the same. I was on a 20-match streak I think, win streak. Maybe 19, 20, 21. I don't remember. I lost quite easy, to be honest. I was like, Wow, what happened?
"In US Open I was like I have to do better, I have to play better, I have to win better, I have to do everything better. I managed to do it.
"In case I play him, that's the only thing I can do because, again, sometimes he's unstoppable. You need to play the match of your life to beat him."
Medvedev, like Djokovic, had a disrupted season last year, due to both injury and the fact that Russian players were prevented from playing at Wimbledon.
And unlike Djokovic, who still had a successful season, Medvedev was more inconsistent, winning only two titles and losing all three of his matches at the ATP Finals.
"I'm actually a little bit in a way disappointed that (today's match) was against Novak tonight because if it would be against some other top 10 players, which last year I had some difficulties with, I don't think I made a lot of top-10 wins, I think with the feeling I had this week, I could be back at winning these guys, winning tournaments," he said.
"Again, Novak is different league. 20, 21 slams. That's all what we have to say. But generally positive. Need to stay positive because the first Slam is coming. Want to show my best. Want to feel great atmosphere like it was here in Adelaide. Looking forward."
Please follow Tennisbuzz on Twitter and Instagram, and you can like us on Facebook by clicking here.
For more exclusive content from Tennisbuzz, including news, features, trivia, promotions and more, please be sure to bookmark our home page.