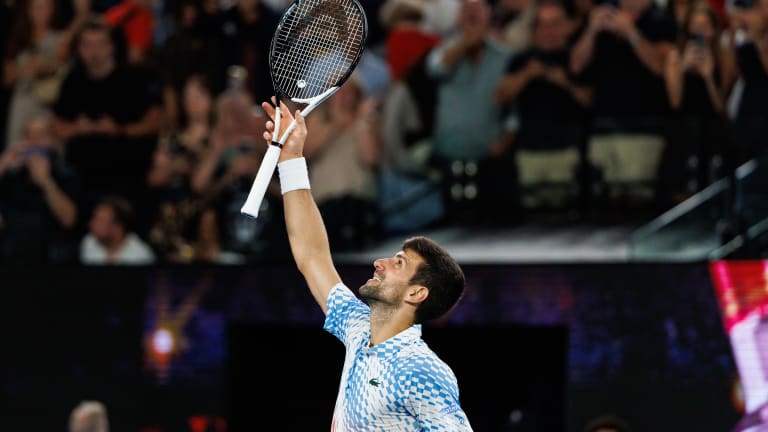 Novak Djokovic sends 'message' to rivals after dominant wins at Australian Open: 'I know everyone is watching'
Novak Djokovic is just two wins away from a tenth title in Melbourne.
Novak Djokovic believes he is sending out a 'message' to his opponents after a dominant display during his previous two matches.
The nine-time Australian Open champion downed home favourite Alex de Minuar in straight sets on Monday and followed it up with a similar win over Andrey Rublev in the quarter-finals on Wednesday.
There has been a degree of uncertainty throughout the tournament regarding the 35-year-old's ability to play at his usual high level after he sustained an injury to his hamstring earlier this month and was left fighting through the pain during his first couple of matches.
However, opponents hoping to take advantage of this had better think again as Djokovic, in his trademark style, has bounced back better than ever.
''The last two matches I think I've been really strong in the important moments,'' Djokovic said after his clash with Rublev.
''And this is kind of a message that you want to send out there to all your opponents.
''I know everyone is watching my matches, I'm watching everyone else's matches. Now it's down to the last four guys, and I'm looking forward to it.''
Should Djokovic win the title, he will equal Rafael Nadal's record 22 Grand Slams.
Asked whether he ever dreamed of achieving such feats, the Serbian revealed that he has always dared to dream big.
''I always dreamed big, and I dare to dream big, which is kind of the way I've been brought up,'' he added.
"I'm really thankful for my parents and the people who are really close in my life when I was very young to give me the freedom and space to really express myself on the tennis court and be really creative and to dream, and to have a really wild imagination, so that I could reach the top of one of the most important global sports that we have in the world.
''I started dreaming that I could be No. 1 when I was seven, from a small country, a war-torn country at that point. Not many people were really believing that could happen.
''But I always had that kind of mindset and that kind of mentality, with clear intentions got me to where I am.
''Of course, sometimes I have to pinch myself with everything that I have achieved, I am very grateful for that.
"But I don't have much time or energy to really kind of go through the entire career right now and see and analyse what I've done, what I have achieved, because I feel I still have things in my legs to look forward to it and to achieve.''
Please follow Tennisbuzz on Twitter and Instagram, and you can like us on Facebook by clicking here.
For more exclusive content from Tennisbuzz, including news, features, trivia, promotions and more, please be sure to bookmark our home page.