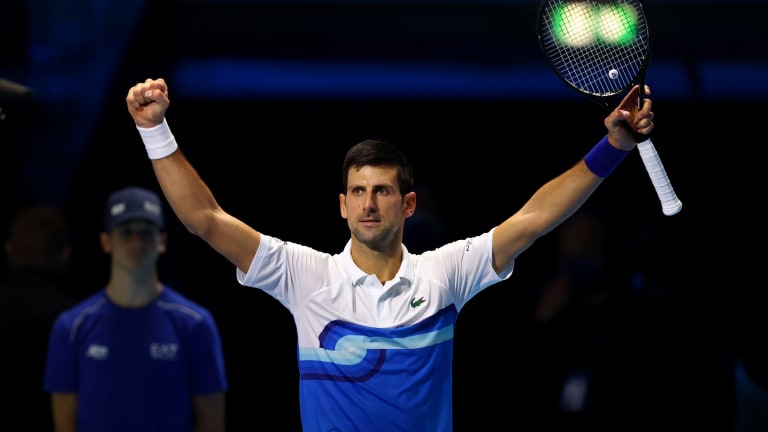 Novak Djokovic victorious at Tel Aviv Open to secure first title since Wimbledon
Novak Djokovic beat Marin Cilic in straight sets in the Tel Aviv Open final to bag his 89th career title.
Novak Djokovic has bagged his first title since Wimbledon, and the 89th of his career by winning in Tel Aviv on Sunday.
The top seed beat second seed Marin Cilic 6-3,6-4 with relative ease despite Cilic playing great tennis throughout the tournament. Djokovic now leads Cilic 19-2 in the ATP Head2Head.
Djokovic dominated his own service games during the match, winning 85% of his first serves, and was able to return the majority of the Croat's huge serves. At 5-3 in the first set Cilic threatened to make a comeback as he took it to deuce, but Djokovic served back-to-back aces to clinch the set.
Djokovic made a statement again in the first game back in the second set as he broke Cilic's serve 15-40. The single break was all the Serb needed as he went on to win the match in just one hour and 35 minutes.
The world number seven didn't drop a set throughout the whole tournament and appeared to be back at the top of his game after missing out on several events this year due to his vaccination status. He is also the first player this season to bag a title on a hard, clay and grass court.
Djokovic is set to compete in the Astana Open in Kazakhstan next week, and then plans to head to Paris at the end of the month for the Paris Masters. Looking ahead to the end of the year, he is also planning to compete in the inaugural World Tennis League in Dubai.
Please follow Tennisbuzz on Twitter and Instagram, and you can like us on Facebook by clicking here.
For more exclusive content from Tennisbuzz, including news, features, trivia, promotions and more, please be sure to bookmark our home page.