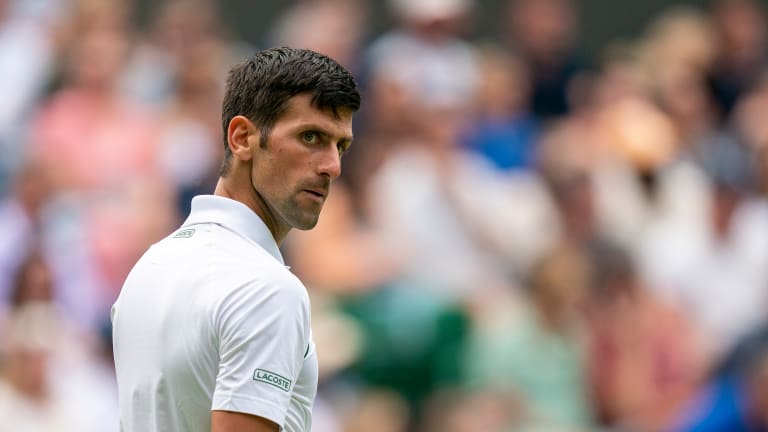 'All of a sudden I became the villain of the world,' says Novak Djokovic on deportation
Novak Djokovic has been speaking about the effects of last year's Australian Open saga.
Novak Djokovic says he was portrayed in the media as a 'villain' and that people have the wrong idea of what happened at last year's Australian Open.
At the time Australia, like many other countries, had strict entry requirements that meant only those with proven covid vaccinations could enter the country unless they had an exemption.
However, despite having an exemption, Djokovic was detained at the airport on arrival, and after much legal wrangling was deported before he could compete at the Australian Open.
Back in Australia for the first time since that incident, due to a waiver of the usual three-year ban that accompanies a deportation order, the Serbian has been speaking about the resulting media frenzy and how that affected him.
"I was really drawn into a storm in media worldwide that was related to anything to do with COVID and the vaccine," he told 9News Melbourne.
"All of a sudden, I became the villain of the world which is obviously a terrible position to be in as an athlete. There was not a great narrative in the media about me at all," he said.
The 21-time Grand Slam champion says even after the event, the impact was still felt everywhere he went as people constantly asked him to comment on the events in Australia.
"I stayed for several weeks at home, didn't really go around too much. I just hoped that the situation would calm down, which it did, but the traces stayed there.
"The traces followed for several months after and I didn't know it was going to affect my game and the way I play. It was not easy for me mentally to regroup and restart again.
"The traces of what was happening, I could still feel it. In every press conference I was asked at least one or two questions about Australia and what happened. Even if I wanted to move on, people were reminding me of that."
The incident divided opinion at the time in Australia, whose citizens had been though extremely strict lock-down restrictions for months. Djokovic says he understands why it caused upset, however he doesn't believe the media gave the public the full story.
"I understood why they were frustrated, but I have to say the media presented it in a completely wrong way because that's not what happened, and a lot of people still have the wrong idea about what happened," said Djokovic.
"There were two or three more people that came into Australia 10 days before I did with exactly the same exemption that I had and I was just following the rules.
"My exemption was verified by an independent body and panel of doctors, so it was unknown who was giving the request, and I came in with all the valid papers.
"Everything got out of hand and then I was labelled as this or that. It was so big in the media that I just could not fight that, I didn't even want to get into that.
"I obviously wanted to stay here and play tennis, but at some point with the amount of craziness going around I just wanted to get out and go back home. "
Djokovic says he believes the media targeted him for months after the incident and that had a big impact on him as a person as well as his close friends and family.
"It's still unfortunate and it hurts me that most of the people will have a wrong idea about what happened. That's what hurts me the most," he said.
"The media has picked on me big time for several months and not in a positive note, so that has created a lot of disturbance to my brand and to me personally and people around me.
"It is something that you have to accept and deal with at the moment. I wouldn't say that it is something that would destroy or eliminate everything that I have achieved on and off the court throughout my career.
"It was so impactful, and it echoed so far around the world that a lot of people will still talk about and remember it for a long time and it is something that is going to follow me for some time."
Djokovic already holds the record for the most Australian Open titles but he is hoping to take that into double figures this year when he competes to win what would be his 22 major title overall. 
Please follow Tennisbuzz on Twitter and Instagram, and you can like us on Facebook by clicking here.
For more exclusive content from Tennisbuzz, including news, features, trivia, promotions and more, please be sure to bookmark our home page.