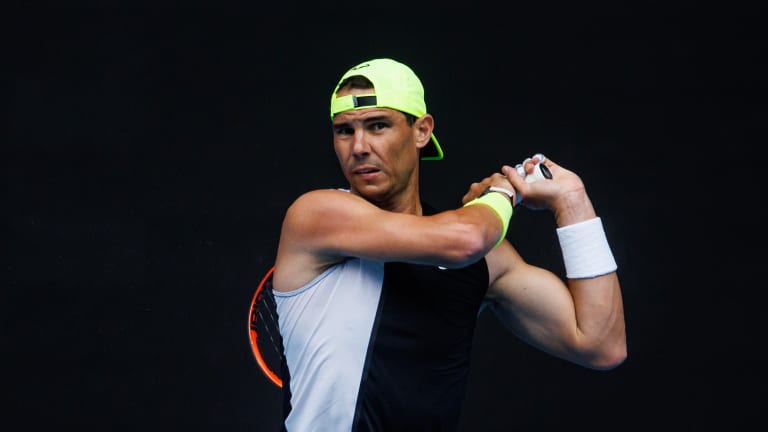 Rafael Nadal dismisses retirement rumour saying: 'I'm here to play tennis'
Retirement is not in the plan for 2023, insists Rafael Nadal following Alexander Zverev prediction.
Rafael Nadal has dismissed a prediction from Alexander Zverev that he will retire after the French Open this year.
Nadal, 36, is getting ready to start his Australian Open title defence, although Zverev believes this will be his final few months on the ATP Tour.
''Rafael Nadal will, unfortunately, retire at Roland-Garros,'' Zverev said.
''I don't wish him, but I think he will have a great tournament, potentially win it and then say goodbye.''
Nadal, though, says that is not the case, and Zverev wouldn't know even if it was.
"I have a very good relationship with Zverev, but not enough to confess something like that to him," Nadal said in Melbourne.
"I don't know what's going to happen in six months. The reality is that I'm here to play tennis, try to have a great 2023, fight for everything that I have struggled for throughout my career and I don't think about my retirement.
"You think about it week after week because that's what you ask me at every press conference, but I will answer the same every time."
Nadal comes into the Australian Open on the back of losing six of his last seven matches, although he says he is not worried about that.
"I need to build again all this momentum," he said. "I need to build again this confidence with victories. But it's true that I have been losing more than usual.
"From my experience, I can go here on Monday and lose without a doubt and not going to be the end of the world. I am going to be a tough moment, of course, but I am going to accept it. It doesn't matter the result."
Please follow Tennisbuzz on Twitter and Instagram, and you can like us on Facebook by clicking here.
For more exclusive content from Tennisbuzz, including news, features, trivia, promotions and more, please be sure to bookmark our home page.