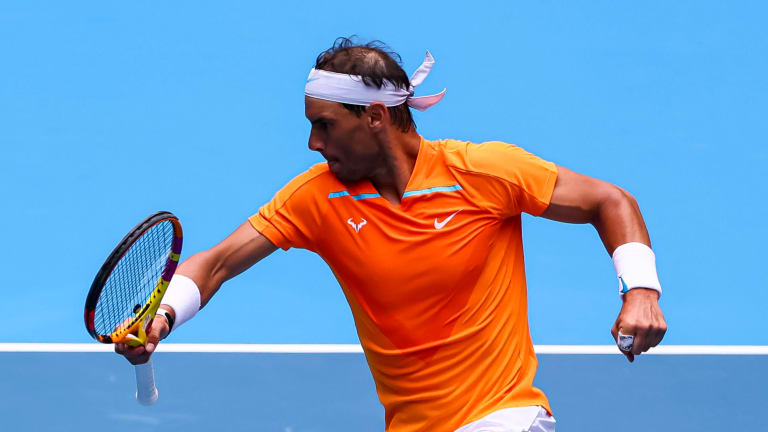 Rafael Nadal holds off Jack Draper to make 'positive start' to Australian Open
The number one seed bagged his first win of the year and is one round closer to defending his title.
Defending champion Rafael Nadal is through to the second round of the Australian Open after overcoming rising star Jack Draper in four sets.
While it looked like a potential upset was on the cards after Draper stole away with the second set, Nadal swiftly recovered, defeating the Brit 7-5, 2-6, 6-4, 6-1.
But it wasn't a flawless performance from the Spaniard, whose games were, at times, full of uncharacteristic unforced errors.
However, Draper was having problems of his own as he appeared almost doubled over in pain with abdominal cramps by the third set which ultimately sealed the Brit's fate in the match.
During his on-court interview, Nadal revealed that the victory was very much needed after a tough few months.
''Last year was without a doubt one of the most emotional tournaments of my tennis career, no doubt about that.
''Unfortunately, that passed, so we need to keep working.
''Super happy to be back here in Australia one more time. It's like my nineteenth season in the professional tour so very excited about this new beginning.
''Happy to be back here in the Rod Laver arena with a victory that I needed, the last couple of months haven't been easy for me but hopefully this victory is going to help me.''
When asked about his form, the Spaniard revealed that he was happy with his performance and was quick to praise Draper's efforts.
''If we put into perspective all the situation that I went through the last six months, I think it's been a very positive start.
''I played against one of the toughest opponents in the first round being seeded, he's young, he has the power and I think he has a great future in front.''
Please follow Tennisbuzz on Twitter and Instagram, and you can like us on Facebook by clicking here.
For more exclusive content from Tennisbuzz, including news, features, trivia, promotions and more, please be sure to bookmark our home page.