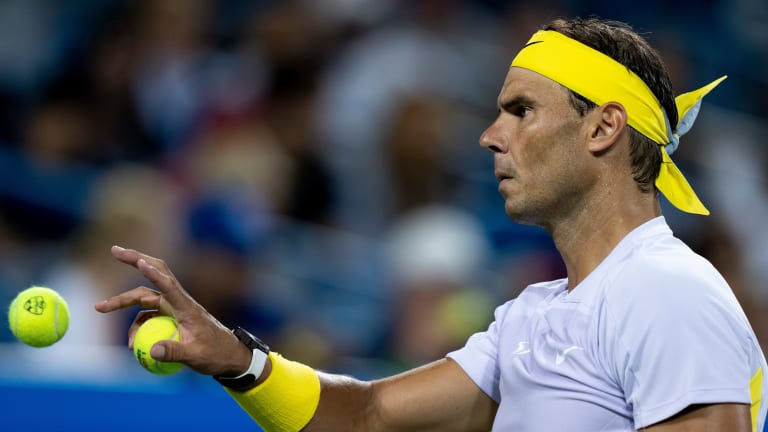 Uncle Toni reveals when he expects Rafael Nadal to retire from tennis
What will it take for Rafael Nadal to decide the time has come to hang up his racket?
Rafael Nadal will only retire from tennis when he feels has 'no chance' of winning tournaments anymore, says his Uncle Toni.
Nadal suggested earlier this season that he feared that this year's French Open would prove to be his last as he battle a chronic foot problem.
However, he underwent treatment shortly afterwards which appears to have settled the injury down, and Toni Nadal now believes Nadal is in a good position in his career once again.
"I think that as long as he feels he has a chance of winning, he will continue," Toni Nadal told Dario AS of Rafa.
"When he sees that he has no options, if he goes to a tournament and has no chance of winning, I don't think he will play. In the end, he has won too much to fold badly.
"How much time does Rafa have left? I don't know, it will clearly depend on his rivals, on his body."
Rafael Nadal is currently number two in the world rankings after winning two Grand Slam titles this season.
The man above him is Carlos Alcaraz, who won the US Open and became the youngest world number one in history.
Some have wondered whether Alcaraz's emergence may hasten Nadal's retirement, but Toni does not believe that will be the case.
"Rafael plays for him, he doesn't think about whether Carlos Alcaraz, David Ferrer or even Djokovic is there."
Please follow Tennisbuzz on Twitter and Instagram, and you can like us on Facebook by clicking here.
For more exclusive content from Tennisbuzz, including news, features, trivia, promotions and more, please be sure to bookmark our home page.