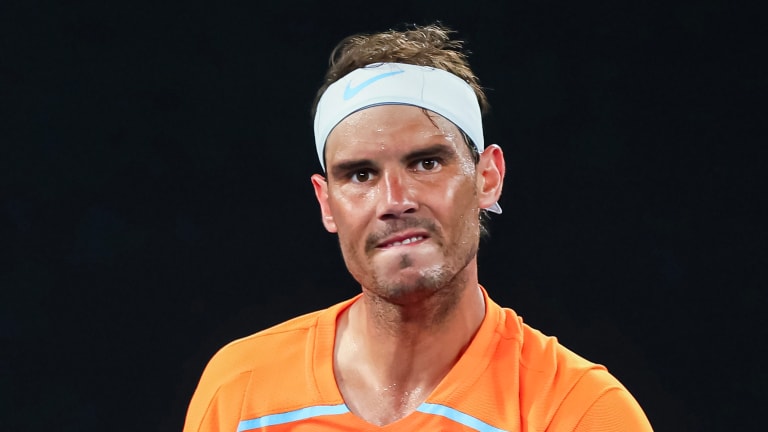 Rafael Nadal vows to 'fight on' despite new injury blow
Rafael Nadal says he has been fighting almost half of his life and it's worth it
Rafael Nadal has vowed to keep fighting like he has done 'for almost half of his life' after suffering another injury blow and early exit at the Australian Open.
The top seed was knocked out in three straight sets by Mackenzie McDonald in the second round after struggling throughout and wincing in pain at a hip injury.
Despite clearly suffering physical pain, and taking a medical time out, the Spaniard returned to play the third set and fought on until the end and said afterwards it is his philosophy in tennis.
"To be the defending champion here, I didn't want to leave the court with a retirement," Nadal said.
"I tried until the end. I was not able to hit the backhand at all. I was not able to run for the ball. [Winning] was not possible, but I just wanted to finish the match.
"Try your best to the end. That's the philosophy of the sport. I tried to follow that during my tennis career."
Nadal entered the Australian Open as defending champion but had played very little tennis in the second half of last season through persistent injuries.
The Spaniard admitted it took painkilling injections in his foot to help him win Roland Garros for an incredible 14th time and he had to pull out of the Wimbledon semi-final due to an abdominal tear. 
His disappointing pre-tournament preparation saw him losing six of his last seven matches which gave him his worst ever start to a season in his career.
"It's true that I have been losing more than usual," Nadal said ahead of the tournament. "I think I am humble enough to accept that situation. I need to build again all this momentum. I need to build again this confidence with myself."
The 22-time Grand Slam champion, who at 36-years-old is the oldest active player in the top 50, has fielded questions numerous times about his retirement over the last few years and today after the defeat, the question was asked again.
"It's very simple: I like what I do," Nadal said in the news conference after the match.
"I like playing tennis and I know it's not forever. I like to feel myself competitive. I like to fight for the things that I have been fighting for almost half of my life.
"When you like do one thing, at the end, sacrifices always make sense, because the "sacrifice" word is not like this.
"When you do things that you like to do, at the end of the day, it's not a sacrifice. You are doing the things that you want to do."
Please follow Tennisbuzz on Twitter and Instagram, and you can like us on Facebook by clicking here.
For more exclusive content from Tennisbuzz, including news, features, trivia, promotions and more, please be sure to bookmark our home page.