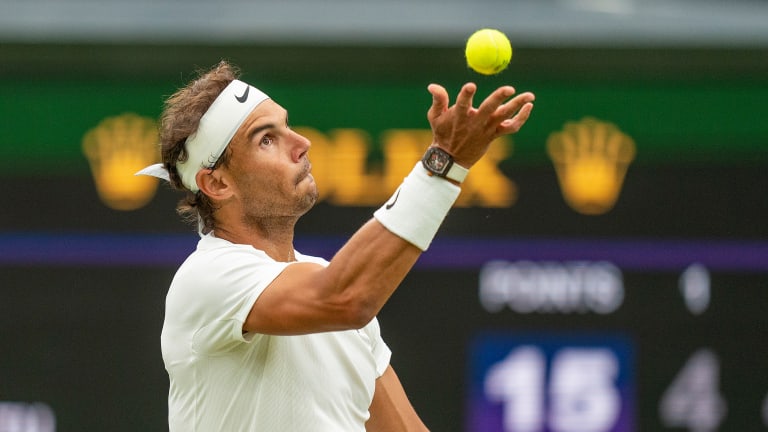 Rafael Nadal warns of 'dangerous' injury as he prepares to make ATP Tour return
Ahead of his first tournament since withdrawing from Wimbledon, Rafael Nadal has provided an injury update.
Rafael Nadal says he is aware of the 'dangers' of returning from his abdominal injury as he readies himself for his return.
Nadal has not played since having to retire from Wimbledon at the semi-final stage due to an abdominal tear.
The Spaniard suffered the injury in the quarterfinal against Taylor Fritz. He was able to overcome it to win the match, but scans later revealed he had a 7mm tear.
He later withdrew from Montreal too as he said he was still not pain-free in practice, but he is now ready to make his return – albeit cautiously.
"I need to go step by step, stay calm and do things the proper way," Nadal said ahead of the Cincinnati Masters.
"It's going to be the first week after a while and always abdominal strains, or tears, are dangerous."
Rafael Nadal has a chance to emerge from Cincinnati as the world number one, which would guarantee him the top seed for the US Open.
For that to happen, Nadal would need to win the tournament while Daniil Medvedev suffers an early exit.
He, though, says that is not even remotely on his mind for now, and his only real concern will be monitoring his fitness and easing himself back into action.
"I'm here just to start my professional matches again but I didn't play a lot at home in terms of matches," Nadal explained.
"I practiced yes, but I have not played any sets before here. I hope I can be competitive at the beginning of the tournament, but I'll be taking care about everything."
Rafael Nadal is undefeated in Grand Slams this year, with him having won the Australian Open and the French Open before retiring from Wimbledon.