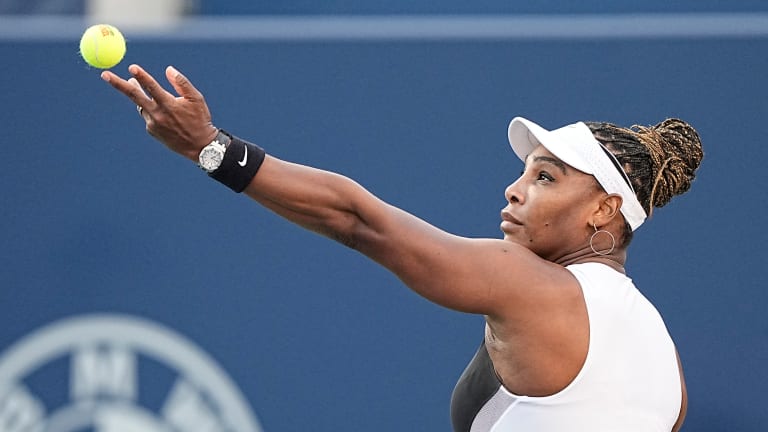 Serena Williams admits to 'lots of emotions' as she bids farewell to Canada
It was an emotional night all round in Toronto as Serena Williams officially kicked off her farewell tour.
Serena Williams waved a tearful farewell to Canada following her defeat to Belinda Bencic at the Canadian Open.
Earlier this week, Williams announced she would retire following the US Open this year, meaning her loss to Bencic was her final match in Canada.
It was also her first public appearance since she made her announcement in Vogue, and that made for an emotional night all round for the fans, Bencic, and mostly Serena herself.
"Yeah, it was a lot of emotions," Serena Williams said on court after her 6-2, 6-4 defeat.
"And yeah, I wish I could have played better, but Belinda played so well today, but it's been a pretty interesting 24 hours.
"Thank you from the bottom of my heart. It's been a joy playing in front of you guys for all these years, so thank you.
"As I said in the article, I'm terrible at goodbyes. But, goodbye Toronto."
One person who deserves an awful lot of credit, though, is Belinda Bencic. The Swiss star was able to overcome the occasion to play some very good tennis throughout.
However, even she admitted she got a little swept away in the sentiment at times.
"Of course it's super nice, but today it's a little bit more sad in a way," Bencic said.
"I don't really want her to retire. I feel like I've always, in a way you know what she's achieved and everything, all her legacy and career and everything.
"But now that it's soon to be over I feel like people, and me included, are realizing it even more.
"Just standing on the court against her today was just, yeah, really overwhelming, I would say."