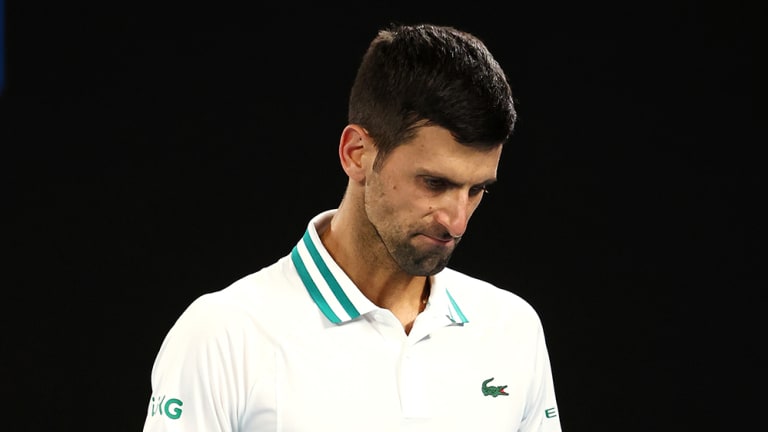 'Some you win, some you lose' – Novak Djokovic remains positive after disappointing Paris Masters defeat
The world No. 7 was denied his seventh Paris Masters title on Sunday by Denmark's Holger Rune.
Novak Djokovic has remained in good spirits despite his loss in the final of the Paris Masters to the unseeded 19-year-old Holger Rune, 3-6, 6-3, 7-5.
The 21-time Grand Slam champion thought he had a 'very good week' in Paris overall.
''It is what it is, you know. You win some; some you lose some,'' Djokovic said at the press conference after the match. ''Yesterday I could have easily lost the match against Tsitsipas but I won. Today I didn't. That's okay. It was a very good week.''
Djokovic was also asked what impressed him the most about Rune's performance and he was quick to praise the youngster for his maturity and ability to stay composed in what was, undoubtedly, the most unnerving match of his career.
''His fighting spirit,'' Djokovic said. ''He stayed composed also mentally all the way to the last shot.
''For somebody who is so young to show this composure and maturity in a big match like this is very impressive.
''He's had a week of his life, I mean, winning against four or five top-10 players, you know, it's quite impressive.''
Djokovic will now look toward the season-ending ATP Finals in Turin which are due to start next week.
The Serb will be aiming to secure his sixth title at the tournament, and he revealed that he fancies his chances.
''Every tournament is important at this stage of my career,'' Djokovic said. ''Anywhere I play, I try to win. That's not a secret.
''That's kind of my mentality and approach coming into Torino. I feel very good on the court. You know, I think I'm playing very, very good tennis.
''Of course, I'm disappointed with the loss today, but I was very close. It was just very few points that decided a winner. But the level of tennis that I'm playing is high, and I like my chances.''
Please follow Tennisbuzz on Twitter and Instagram, and you can like us on Facebook by clicking here.
For more exclusive content from Tennisbuzz, including news, features, trivia, promotions and more, please be sure to bookmark our home page.