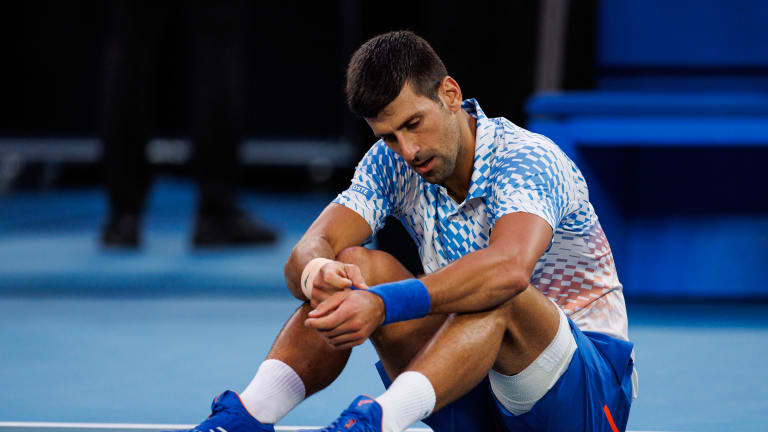 Taylor Fritz defends Novak Djokovic in faking injury claims
Novak Djokovic has hit out at doubters who think his hamstring injury isn't real but he has found an ally in Taylor Fritz.
Taylor Fritz has defended Novak Djokovic after the Serbian felt he had to refute suspicions he has been faking a hamstring injury at the Australian Open.
Djokovic pulled out of a pre-tournament exhibition against Daniil Medvedev due to the issue, and he has had the area heavily bandaged during his matches so far.
He has also needed medical time-outs and has been visibly struggling at times during some matches.
There were no signs of any injury in Djokovic's demolition of Alex De Minaur in the last 16, though, and he admitted after the match that he did not feel any pain from the injury. That led to questions which he didn't much care for.
"I leave the doubting to those people – let them doubt," he told the Serbian press. "Only my injuries are questioned.
"When some other players are injured, then they are the victims, but when it is me, I am faking it. It is very interesting… I don't feel that I need to prove anything to anyone.
"I have got the MRI, ultrasound and everything else, both from two years ago and now. Whether I will publish that in my documentary or on the social media, depends on how I feel. Maybe I will do I it, maybe I won't.
"I am not really interested at this point what people are thinking and saying. It is fun, it is interesting to see how the narrative surrounding me continues, narrative that is different compared to other players that have been going through similar situation. But I am used to it, and it just gives me extra strength and motivation. So I thank them for that."
Fritz, though, has taken to social media to defend Djokovic, saying the nature of tennis means all players are dealing with injuries, so it is unfair to accuse anyone of faking.
He also stressed that, while some players might exaggerate injuries, you can never say they are not there entirely.
"My opinion that probably nobody cares about," Fritz began, "80% of players are always dealing with something (severity levels differ), but everyone is honesty always a little banged up. The media is only ever focusing on the top guys so their issues get more attention.
"Also some players are more vocal talking about injuries then others. I don't think people fake injuries, I do think sometimes players stretch the severity of the injury because it depressurizes them and helps them play better (which honestly is fine, do whatever works)
"I don't think it's done in a bad sportsmanship kind of way, and before people get defensive, I'm not talking about anyone in particular this is just what I see as a player, sometimes there are serious injuries, sometimes there over exaggerated ones from people.
"I'm not taking shots at any players so please don't get defensive."
Please follow Tennisbuzz on Twitter and Instagram, and you can like us on Facebook by clicking here.
For more exclusive content from Tennisbuzz, including news, features, trivia, promotions and more, please be sure to bookmark our home page.