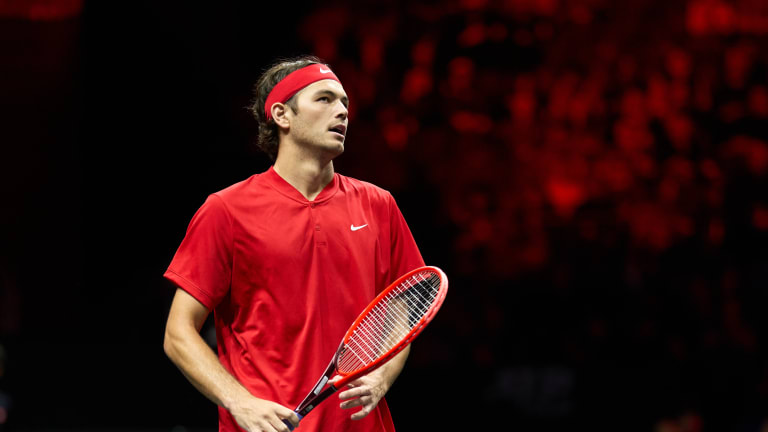 Taylor Fritz leading rebirth of US men's tennis by as he joins elite list
Taylor Fritz says reaching last four in Turin as 'huge' as he shows American men's tennis is in a good place again.
Taylor Fritz has joined an elite group of American tennis players after his win over Felix Auger-Aliassime at the ATP Finals.
Fritz overcame the Canadian 7-6, 6-7, 6-2 to seal second spot in Green Group and qualify for the semi-finals of the competition.
That makes him the first American since Jack Sock in 2017 to achieve it, and just the second in the last 15 years.
If Fritz can reach the final, he will be the first American to do so since 2006 when James Blake lost to Roger Federer.
Interestingly, no one from the US has won the tournament this century, with Andre Agassi the only other one to reach a final.
American men to qualify from round robin at ATP Finals since 2000
Andre Agassi – 2000, 2003
Pete Sampras – 2000
Andy Roddick – 2003, 2004, 2007
James Blake – 2006
Jack Sock – 2017
Taylor Fritz – 2022
"It is huge," Fritz said about reaching the semi-finals. "From possibly not even qualifying to now be in the semis feels great. I felt like I was going to play well here.
"I feel that I always play my best tennis against the best players."
Fritz will now face Novak Djokovic in the last four after the revitalised 21-time major winner dominated Red Group and sealed top spot before even playing his final round robin game.
Please follow Tennisbuzz on Twitter and Instagram, and you can like us on Facebook by clicking here.
For more exclusive content from Tennisbuzz, including news, features, trivia, promotions and more, please be sure to bookmark our home page.