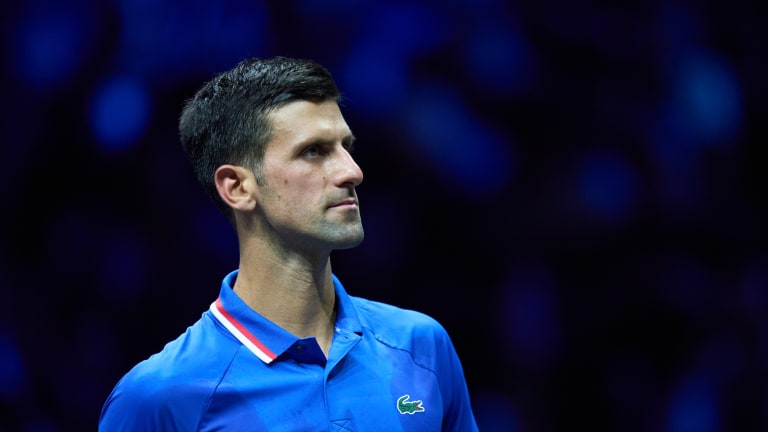 'There's definitely an issue with Novak Djokovic's hamstring,' says top analyst
Novak Djokovic is 'managing' a hamstring injury at the Australian Open says Mark Petchey
Tennis analyst and commentator Mark Petchey says there is definitely a hamstring issue for Novak Djokovic but says he would never count him out.
Djokovic is vying for his tenth Australian Open title this year, which if he wins, would put him level with Rafael Nadal for the most Grand Slam titles and give him a chance to reclaim the world number one spot too.
However, the Serbian appeared to tweak his hamstring in a semi-final match against Daniil Medvedev in the Adelaide International two weeks ago.
He subsequently withdrew mid-way through a scheduled open practice a few days before the Australian Open and failed to make a warm-up practice just before his first-round match.
The 21-time Grand Slam champion showed up to his first match with a heavily strapped hamstring before putting on a spectacular show of tennis in the Rod Laver Arena beating Roberto Carballes Baena in straight sets.
After the match, former player turned analyst Mark Petchey said Djokovic was a joy to watch but he could clearly see signs of the hamstring issue.
"There are very few players that compete like Novak, and I thought he maybe peaked too early in the tournament, but boy was it a joy to watch," Petchey told Stan Sport's Grand Slam Daily,
"There's definitely some concern there. You won't not have a practice, which is what happened two days prior to this, if there isn't a concern.
"There were a couple of times in the match, to be honest, that he kind of stretched for a ball or a couple of drop shots where he kind of shook his leg out afterwards," he said.
"You're going to go through your routine, you're going to make sure everything is normal. So the reality is, there definitely is an issue with Novak's hamstring, but it's clearly not something that he can't manage at the moment."
Djokovic won his ninth Australian Open title in 2021, despite suffering an abdominal tear in the third round of the tournament so winning through injury is not something new to the Serbian.
Petchey believes Djokovic is managing the hamstring strain at the moment in the hope it will repair in time for when the bigger tests come in the later rounds.
"Will it be around when the tougher tests come? Probably not, and that's probably what I'm sure he's hoping for. For the time being, everything looked pretty good out there," Petchey said.
"He's got form here in the past where he hasn't felt perfect and he's still come away with the silverware. I'm not going to count him out."
Please follow Tennisbuzz on Twitter and Instagram, and you can like us on Facebook by clicking here.
For more exclusive content from Tennisbuzz, including news, features, trivia, promotions and more, please be sure to bookmark our home page.